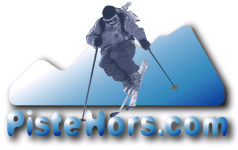 Posted on: 2022-04-07 18:52:04 by davidof
Two ski tourers killed by Ecrins avalanche
Two ski tourers have been killed by an avalanche while climbing the North-East couloir of the pointe Maximin (3303 meters) located in the commune of St Christophe en Oisans. The victims were well known in the Grenoble ski touring community.
The alert was given by members of the family on Wednesday afternoon after they became worried that they had not returned home. Due to the poor weather the rescue helicopter was only able to overfly the zone on Thursday morning. The bodies of the two men were discovered at the base of the couloir. It appears that they were hit by an avalanche that descended the couloir while they were climbing on foot with crampons and they were carried several hundred meters downslope over rock bands. Their bodies were only partially covered by avalanche debris. The couloir is rated 5.1 with a slope of 45-50° over 300 meters. The upper section is open and suffers from purges, particularly in spring where the north-east aspect catches the sun early in the day.
The avalanche risk was 2 (moderate) for the sector on Tuesday. The bulletin warned of snow purges with the sun on steep slopes and also of rare residual slabs on steep, north facing slopes above 2000 meters.
Location
Comments