Ski Areas > Northern Alps > Vercors
The Vercors plateau has an average altitude of 1000 meters with a number of summits rising to over 2000 meters. Surrounded by steep cliffs with limited road access the area is a natural citadel. The Vercors area was home to fierce resistance to German occupation during the Second World War and there are a number of monuments.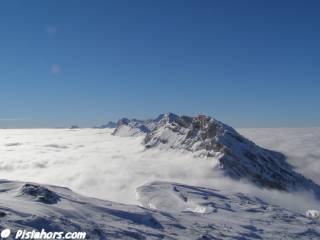 Looking south to the Mont Aiguille from the Pic St Michel
The north of the massif is home to the ski resorts of Lans en Vercors, Villard des Lans and Autrans. Apart from ski touring the area is ideal for cross-country skiing and snow shoeing. The impressive Mont Aiguille is recognized as the home of mountaineering having first been climbed in 1492 and it has even been skied, with a short descent on rope. The area has a natural park covering 186 000 hectares extending from Diois in the south.
The ten principal summits of the Vercors are
| | |
| --- | --- |
| Le Grand Veymont | 2 341 m |
| Mont Aiguille | 2 086 m |
| Grande Moucherolle | 2 284 m |
| Mont Jocou | 2 052 m |
| Le Gerbier | 2 109 m |
| Roc Cornafion | 2 049 m |
| Roche Rousse | 2 105 m |
| Pié Ferré | 2 049 m |
| Malaval | 2 097 m |
| Dôme de Glandasse | 2 045 m |
Ski Resorts
Ski Touring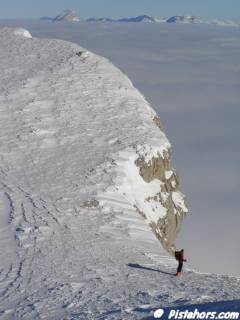 The eastern ramparts rise from a 1000 meter plateau above the Drac valley and have a number of skiable couloirs and passes covered in our feature on the Vercors East Couloirs
Guides
François Grain of Poudre & Glace is based in St-Nizier du Moucherotte and offers mountain guiding and instruction in the region. See his website for more details: http://www.poudre-glace.com
<< Vanoise | Northern Alps | >>