Ski-Areas > Northern Alps > Savoie (73) > Tarentaise > Les Arcs > Les Arcs Off Piste
Contents
Description
Description
The north face of the Aiguille Rouge offers an immense area of off-piste skiing in the direction of Villaroger. Here the danger is real, far from the pistes and from the ski lifts. This is one of the last untouched areas of the Tarentaise with a large part being a restricted nature reserve.
The Couloir en S is is one of the hardest descents, the gully stretches along the whole North East face of the Aiguille Rouge before opening up onto the easier slopes of the Grand Col. The level of difficulty really depends on the current snow conditions - fresh powder for preference. The slope is around 40-45 degrees over 300 meters. A rope and ice axe are useful. An easier alternative is the Col du Génépi, after descending the Villaroger piste some distance bear right to the Col. A steep lip (caution avalanches) exits onto the moderate north east slopes of the Aiguille Rouges. An alternative is to traverse leftwards from the Col to reach the Combe des Lanchettes. Note that Lanchettes is Savoie patois for "avalanche".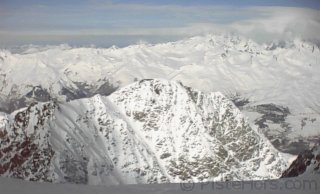 Aiguille Rouge North Face
Beneath the Aiguille the Grand Col is a popular itinerary. From the chair lift of the same name climb to the Col, 15 minutes with skins or 30 minutes on foot. From 2835 meters you can plunge into an immense off-piste to Villaroger. The face North of the Thuria is clearly visible, it has been skied by Pascal Budin, 2400 meters at an angle of between 45 to 50 degrees at the summit.
From the Grand Col a longer climb takes you to the Col des Roches and a west facing slope of between 30 to 35 degrees. However to reach the slope there is a precarious scramble, sometimes helped by a cable attached to the rocks (depending on snow conditions). The slope should be attempted early as it catches the sun in the morning. The final section to Les Lanches is on a narrow path on the opposite bank of the valley. Les Lanches offers a small restaurant and the bus to Peisey Nancroix at quarter past and to the hour. The descents from la Plagne and the Aiguille Grive are clearly visible along the route.
The Col des Roches is also the start point for the climb to Mont Pourri which is practicable from March to June.
Further Information
This French language site is dedicated to Freeriding at les Arcs and has some other itineraries.
Les clés de Paradiski. Les Arcs Ski Guide Didier Givois offers you the keys to the Paradiski domain with his English and French language book describing the boldest and most beautiful off-piste routes. Amazon-FR:2952249806
<< Apocalypse Snow | Les Arcs | Col des Roches >>