Gear > Avalanche Gear > ABS Airbag
The closer you are to the surface the greater your chance of survival. The ABS Airbag system consists of a special ruck-sack equipped with a gas canister and two large sacks situated on either side. If there is an avalanche a handle on the left shoulder must be pulled, the canister fills the two sacks with gas providing the skier with both some impact protection and buoyancy. The handle can be easily removed in ski lifts or restaurants to avoid accidental release.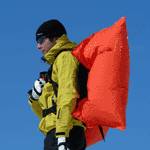 ABS Airbag
Like the Avalanche Ball, the system relies on a certain presence of mind of the user. The system is also bulky, it is popular with ski guides who work largely lift served off-piste within stations but is heavy for ski mountaineering use. The system is being continually improved.
ABS, the German manufacturer, studied 26 avalanches worldwide between 1991 and 2000 where the Airbag was used. 40 people were equipped with Airbags, 32 people were found with the airbags deployed, 6 hadn't activated the system and 2 systems hadn't worked due to technical problems. Half of the 32 victims remained on the surface of the slide. Of the 5 people completely buried their airbags were visible on the surface. The system does not help if the victim is stationary within an avalanche, say trapped by rocks or a tree. An avalanche transceiver should always be worn as well.
<< Shovels | Avalanche Gear | Avalanche Ball >>
---