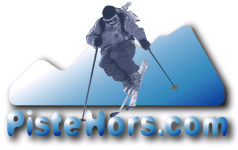 Posted on: 2023-04-14 20:39:58 by davidof
Three trainee guides killed by avalanche near Tignes
Three trainee guides have been killed by an avalanche on the Pointe de la Golette (3256 m) close to the ski resort of Tignes. The slide occured around 14h00 at 3250 meters altitude on the frontier between France and Italy at the col de Tsanteleina. A group of four ski tourers, a guide instructor and three apprentice guides were caught by the slide. The instructor was able to stay near the surface of the slide but lost one of his skis. and started the search and recovery of the other members of the group with his avalanche beacon. The other skiers had been killed by the slide.
Unable to get a phone signal he descended downhill and gave the alarm after about 1 hour. A search operation started on both the French and Italian sides of the border at 16h. However it was not possible to reach the avalanche site due to poor weather either by helicopter or on foot. The top of the Val di Rhemes was risk 3/5 at the time of the incident. The avalanche bulletin said that:"The cold fresh snow as well as accumulations formed with strong winds at times remain unstable in the high mountains. Avalanches can be triggered in the surface layers of the snowpack after the passage of a single winter sports enthusiast. Be careful in areas near ridges, in hollows and gullies and on steep slopes". The bodies of the victims, well known in the Aoste valley, were recovered this morning.
Avalanche forecasters from Meteo France Bourg St Maurice investigated the terrain in the area this morning. They found good stability at 2200/2300 meters with just a few cm of fresh snow but above 2500 m they found a noticeable change with soft slabs and whoumps signalling a weak layer collapse. They warn skiers that it may be spring but at altitude it is still winter and called for caution over the next days with a new storm cycle traversing the alps.
Location
Attachments

Comments