Conditions remain unstable across much of the French Alps with three fatalities this week in separate incidents and avalanches involving skiers and climbers in Ceillac, Serre Chevalier, Val Thorens, Courchevel, Meribel and Bonneville sur Arc; fortunately most without serious injury.

On Monday an off piste skier had a lucky escape after being buried 35 minutes under an avalanche at Bonneval sur Arc. The avalanche occurred at 2300 meter in the Ouille Mouta sector close to the top of the Mulinet drage; the slope was destabilized by rapidly warming conditions.
A large search and rescue operation was put in place (probe search, the victim didn't have a beacon) by the piste services but it was only when the mountain rescue (CRS des Alpes) arrived by helicopter with their dog Mojo that the victim was found. He had been under the snow for 35 minutes and was suffering from hypothermia but had no other injuries. The avalanche risk was 3 above 2200 meters on all slope aspects with a persistent weak layer in place following fresh snow and high winds.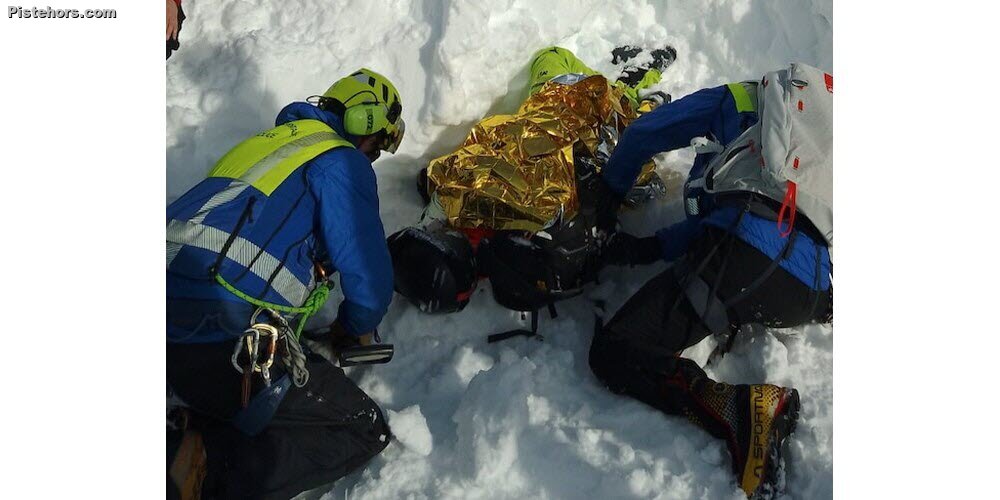 Avalanche at Bonneval sur Arc

A British ski tourer had a big scare on Wednesday afternoon. He had just started to descend the SE facing Breche du Vallon de la Route at 2850 meters in the Fontenil valley above Serre Chevalier when he triggered a large avalanche and was buried up to his shoulders and had to be evacuated to hospital for treatment. He was equipped with both an avalanche beacon and airbag but was unable to actuate the airbag as the trigger was in his rucksack. The avalanche risk was 3 above 2700 meters with slopes from NW to E mentioned as particularly at risk due to fresh snow and wind with cat 2 or 3 avalanches possible triggered by a single skier. Below rain had stabilized the snow-pack.
Also on Wednesday a piste worker was caught by an avalanche in the Sybelles ski area while preparing the pistes under the col de Bellard. His piste basher was carried 150 meters downhill, turning over several times during the slide. The driver was able to escape with cuts and bruises and alerted the his colleagues by radio. The avalanche occurred on a NE facing slope at 2250 meters.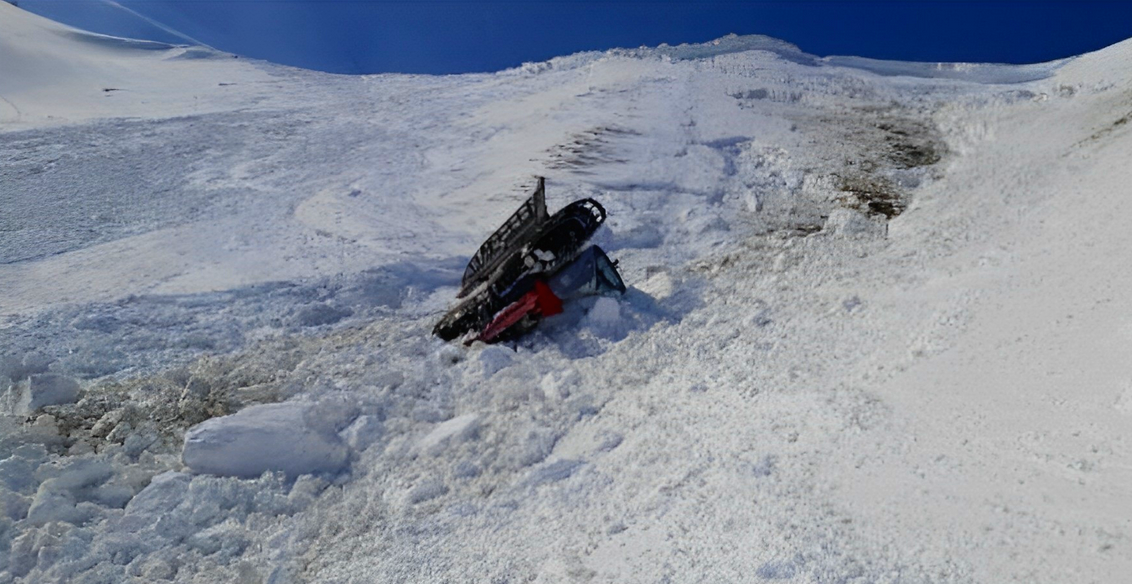 Stricken piste basher under the col de Bellard

On Thursday an off piste skier was killed on the Crête des Lanchettes above the ski resort of les Arcs. An eye witness said that two avalanches had been triggered by off piste groups at around 2600m on NW facing slope. The first, a small avalanche, by a group of four off piste skiers around 13h30 without victim. Around 15h00 there was a second avalanche in the same zone. The first group had actually skied this area earlier without triggering the slide. This second slide was much larger. Two skiers were involved, a man and his girlfriend. The man was buried under 4 meters of snow and died at the scene, his girlfriend escaped uninjured. There was no avalanche bulletin published as Meteo France were on strike but the risk would have been 3 at that altitude following fresh snow and high winds.

Today four ski tourers plus a guide were involved in an avalanche near the Col du Palet close to Tignes. The avalanche occurred at 11h30 at an altitude of 2750 meters on the on the north-west face of the Col des Ves. Two members of the group were caught. The slide was described as very large, 300 meters wide and running 400 meters down-slope. 14 members of the Tignes piste patrol accompanied by three dog handlers arrived on the scene a little before noon along with the mountain rescue services. The first skier was buried under a meter of snow, he was found by the guide after 15 minutes buried under a meter of snow. He was taken to hospital but was uninjured. The second victim, a 48 year old man, was buried under 4 meters of snow. This proved fatal. He was wearing an avalanche beacon which allowed the rescue services to locate him. The avalanche risk was 3 above 2200 meters but the bulletin specified North to East sector slopes due to the formation of windslab during the week and a persistent weak layer with the danger of remote triggering. However it did warn that very large slabs were in place on shaded slopes which had not stabilized and could be triggered by a group of skiers.
The website Data Avalanche has recorded over 60 avalanches since the storm cycle last week.