It has been a long journey for Marker. From their futuristic Su-matic touring bindings of the 1970s (only disavantage, you couldn't tour with them) to the uber-heavy Duke range (realised just as everyone was getting tech binding religion) to the KingPin - an attempt to make a pin binding as heavy as a traditional touring binding but they finally seem to have got it with the Alpinist?
Binding weight is 490 grammes, only the Plum Wepa S compares in the segment and its 130 euros more expensive (retail). The Alpinist is expected to retail in the 300-330 euro range (depending which country you are in and which model). A ski brake (if you like losing your skis when they come off) is an option. They claim to have fixed icing problems with anti icing pads (although the boot lugs can still ice up) and there are three walking positions including flat. Materials look to be high quality with anodized aluminum and even some carbon fiber reinforced plastic. Ok the plastic bits give us the jitters, it is increasingly used in high stress parts like bike gears but in extreme mountain conditions will it survive?
There are two versions with different DIN ranges. 4 to 9 for lighter skiers, 6 to 12 for everyone else. Interestingly the toe piece only has once spring - compared that to the three Marker stuck on the KingPin. The heel has 15mm of length adjustment. Marker have opted for a wide 38 mm hole pattern making the binding suitable for large skis up to 115 mm.
They say the binding has 4mm of dynamic length compensation to cope with skis flex and solves pre-release issues that can affect other pin bindings when the boot touches the heel. Most lightweight tech bindings need a very precise setup. The binding is compatible with existing "dynafit" style ski crampons with a steel crampon holder. The simple design is said to reduce costs and hopefully improve reliability.
Assuming no bad first season bugs this, while not being the game-changer Marker claims, would be a serious alternative to the Dynafit TLT Speed range and seriously undercuts similar bindings from Atomic/Salomon and ATK.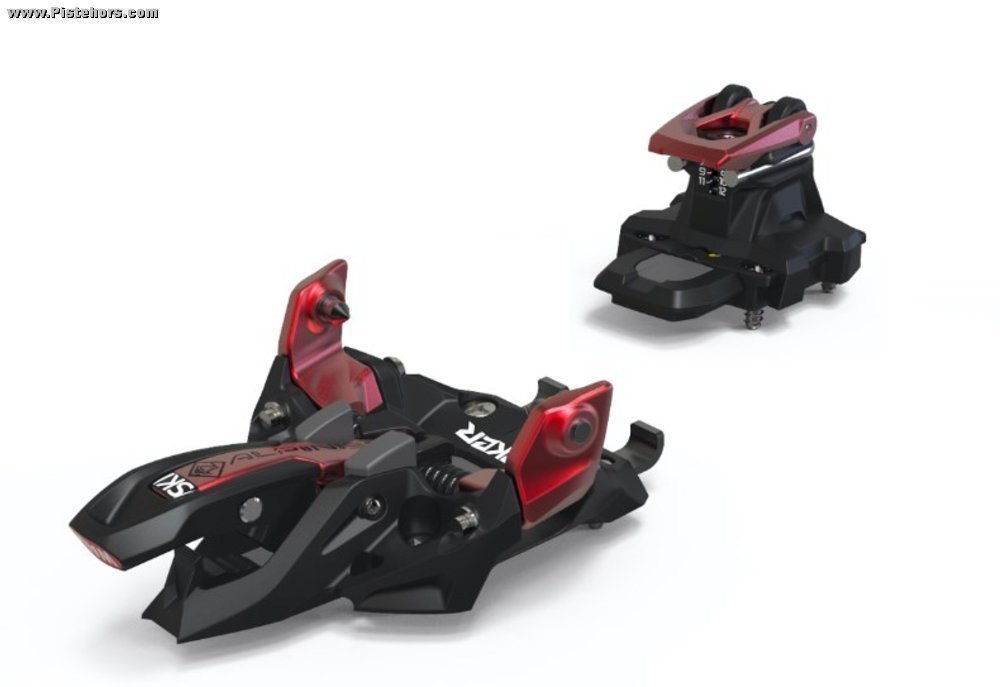 Market ALPINist