Since December France has been blasted by a series of storm cycles. These have brought regular snowfall to all mountain ranges. Snow depth are, as a consequence, good to excellent, at least above 1300 meters but summits and exposed ridges are frequently bare. This reflects warm (third warmest winter since 1900), wet and windy weather.
In the Northern Alps snow levels are around average even above average over 1300 meters with the exception of the Savoie where cover is close to normal. Fresh snow on the 26th and 28th February has fallen to low altitudes giving the mountains a wintry look for the half term holiday period. It is possible to ski from 900-1000 meters on north sector slopes, 1000 to 1200 meters on south aspects with between 80 to 140cm of snow on north slopes at 1500 meters.
Chevril (2550 m – Haute-Tarentaise, lac du Chevril) : 185 cm
Grande Paréi (2250 m – Beaufortain near les Saisies) : 220 cm
Bonneval-sur-Arc (2700 m - Haute-Maurienne) : 145 cm
col de l'Aigleton (2250 m - Belledonne) : 345 m
col de Porte (1300 m - Chartreuse) : 135cm
Le Gua (1600m – Vercors near the couloir des Sultanes): 185cm
Les Ecrins (2950m – glacier de Bonnepierre) 305cm
Bauges (1630m – Plan de la Limace) 150cm
Snow cover is well above average in the Southern Alps. This has brought avalanche risk at altitude and landslips lower down. In some areas snow depths are double the long term average with fresh snow falling again this week. In the Maritime Alps depths are close to records with 215cm at 1900 meters in the ski resorts of Isola 2000, Auron and la Foux d'Allos. Generally on North facing slopes you can find around 70 – 100cm of snow at 1500 with the snowline currently around 1000m. However as is often the case, high winds mean the cover is very uneven. Ridges and summits are often bare.
Orcières (2294 m - Champsaur) : 220 cm
Parpaillon (2545 m - Embrunais-Parpaillon) : 115 cm
Col Agnel (2630 m - Queyras) : 145cm
Restefond (2550 m - Ubaye) : 185 cm
Lac des Millefonts (2430 m – Mercantour) : 300 cm.
In Corsica the picture is very variable depending on the altitude, below average under 2000m, above average higher up. In the Vosges snow can be found from 700m but the summits lack cover due to the wind. A similar picture in the nearby Jura where snow cover increases rapidly from 1300 meters (30cm at 1200m, 80cm at 1400m). In the Massif Central the snowline is 1100m and again snow cover is good above 1300m.
In the Pyrenees the snow cover is generally good from 1400 meters altitude with depths 20-30% above average in the high mountains. There has been around 50cm of fresh snow in the central Pyrenees this week.
Canigou (2150m Cerdagne range): 150cm
Puigmal (2470m Cerdagne range): 240cm
Hospitalet (2290m Ariege): 345cm
Port d'Aula (2140m Couserans) : 315cm
Lac d'Ardiden (2445m Bigorre): 305cm
http://www.meteofrance.fr/climat-passe-et-futur/bilans-climatiques/bilan-2014/point-enneigement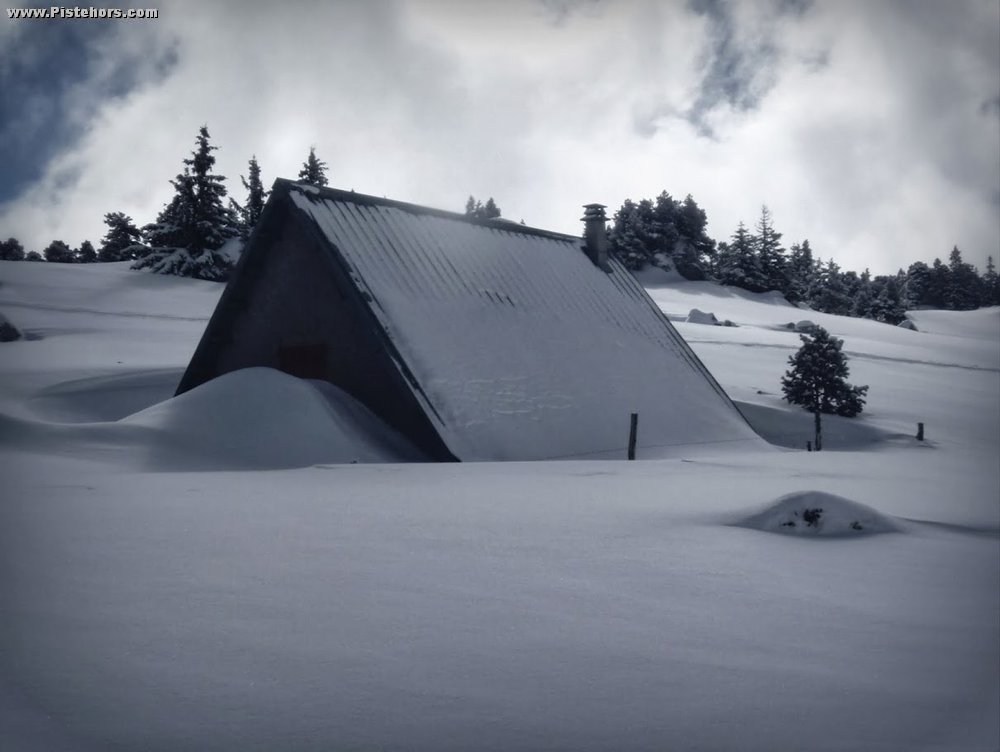 Vallon de Marcieu, Chartreuse range