Snow Shoe Guide Killed by Hautes-Pyrénées Slide
A snow shoe trek ended disastrously for Philippe Raynal, a 32 year old professional snow shoe guide from Pau after he was hit by an avalanche.
The accident occurred on one of the variants of the GR10 between the cabane de Barassé and the Club Alpin Français (CAF) refuge at Campana de Cloutou, situated at 2225 m altitude. A group of five snow shoe walkers started out from the car parking at Artigues with plans to go to the refuge situated about half a day's walk away.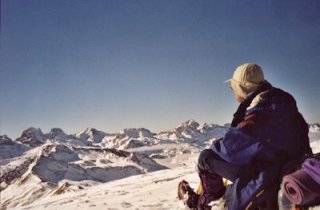 Philippe Raynal in the Pyrénées
Despite being experienced in the mountains the victim was caught by a wind slab avalanche at 12h15. The slab measured 20 by 30 meters with a depth of around 1 meter, it appears to have been triggered by the weight of the walker. Equipped with avalanche transceivers and shovels the four members of the group were rapidly able to find the man who was in a state of cardiac arrest. One of the group descended to alert the rescue services but it was only at 13h55 that a call was received by the Mountain Police (PGHM) at Pierrefitte-Nestalas. A doctor and a police officer were taken to the scene by helicopter and arrived at 14h15. Despite the efforts of his companions and the doctor the victim was declared dead and transported to the morgue of the hospital in Tarbes.
The avalanche risk was 3 on a scale of 5. The captain of the mountain police, Jean-Joël Loriette, commented "there are a lot of wind slabs that have formed over the last few days with the strong wind from the south. The danger is high, particularly on north facing slopes."
On the same day a cross country skier was killed by an avalanche near to Orcival in the Massif Central.

Posted by
davidof
on Wednesday, 19 February, 2003 at 07:18 PM
Comments are now closed