Les Gendarmes Renifleurs
The Mountain Police (Peloton de Gendarmerie de Haute Montagne) down in Chamonix have been testing a new toy. No not a flash ball gun but something called the Lifeguard built by DKL in the United States.
DKL say that the device can detect the magnetic field of a beating heart and can differentiate between humans, animals and of course, the operator. They claim a range of up to 500 meters in ideal conditions and say it can even detect humans through 30cm of lead and concrete walls. Sounds too good to be true, maybe it is?
Inquiries by PisteHors has found that the Lifeguard has been been widely criticised by experts in the States who've called it a 'high tech dowsing rod' and 'a scam'. An investigation conducted by the Sandia Government Laboratory found that the device worked 'no better than chance'. The device holds US patent number: 5,748,088, but when David Voss, a journalist with the respected Science magazine tracked down the officer who awarded the patent to find out what tests they had performed, she said 'I trusted them that it works as they claimed'. Amongst other recent wacky US patents are those for Cold Fusion, a switch that works by ESP and the Garden Swing!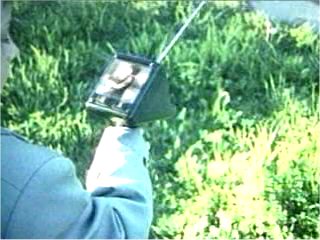 Searching for Shirley, who said the Lifeguard was Garbage?
At around 14,000 € per unit the device is not cheap. It consists of a box containing some mysterious electronics balanced on a handle. It apparently rotates in the direction of the victim. The Lifeguard device has been endorsed by the Los Angeles Police Department. It will be interesting to see what the 'Sourciers (dowsers) of Chamonix' make of it. Hopefully they will apply the same scepticism as their colleagues in Bourg St Maurice who had to demand that clairvoyants stop contacting them during a recent search for missing snowboarders.
The story smacks of the scandal of the oil detecting sniffer planes (avions renifleurs) in which the then French state company Total wasted 800 million Francs in the late 1970s.
Meanwhile, the horoscope section of the Chamonix Dahu says that Mars is rising over Uranus indicating increased avalanche activity towards the end of the week.
More seriously, back country travellers should remember that the best chance of survival after an avalanche is self-rescue using avalanche transceivers, probes and shovels. In France, rescue services arrive on the scene on average 45 minutes after a slide. Too late for the majority of victims.
Posted by
davidof
on Sunday, 16 February, 2003 at 07:26 PM
Comments are now closed