Series of Deadly Avalanches in French Alps
An American has been killed by an avalanche while skiing above Courchevel 1850 in the Savoie. Separate avalanches at Valloire and Saint-Colomban des Villards have killed one person, injured a ski tourer with his companion still reported missing. A skier was also killed by an avalanche in La Toussuire yesterday morning. La Toussuire and Saint Colomban form part of the linked les Sybelles ski area.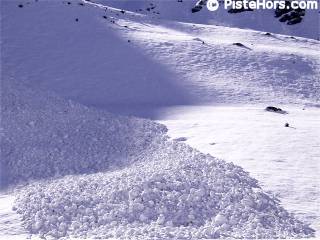 Elsewhere the rescue helicopters were kept very busy. A father and his son were buried for 10 minutes under 1 meter of snow after an avalanche in the couloir de Sallettaz above the resort of Romme-Sur-Cluses. They were lucky to be rescued by other skiers thanks to their avalanche beacons, the son suffered minor injuries. An avalanche also hit the pistes at Saint-Gervais. A group of four skiers were caught by an avalanche at Tignes around 14h30 in the Valons de la Sache with one member taken by helicopter to hospital at Moûtiers but without serious injury. There was also an avalanche in the Palafour sector involving a group with a ski instructor but without injury.
The Courchevel avalanche occurred at 14h00 in an off-piste sector under the Suisses chair close to the Saulire. Witnesses saw an avalanche start as a skier left the pistes and traversed the slope. The alert was given by mobile phone but the rescue services were unable to resuscitate Ajay Tambe, aged 42 and originally from India now living in California. The slide was some 30 meters wide and 80cm deep. The victim was found in a state of cardio-vascular arrest by a probe search after 20 minutes buried under 180cm. Rescuers were unable to resuscitate Mr Tambe who was a keen skier and climber and was holidaying in Méribel.
At Valloire walkers found tracks leading into an avalanche in the Crey-Rond sector at 13h30 and alerted the CRS. Rescuers found a woman aged in her 50s in a state of cardio-vascular arrest and severe hypothermia at 2150 meters altitude. She was taken by helicopter to hospital in Chambéry but doctors were unable to resuscitate her. The victim was Françoise Martin, a local woman and experienced walker. A major search and rescue operation also took place to localise a snowboarder reported missing under an avalanche in the Cornafond sector in the late afternoon. Rescue workers are now reasonably sure that no-one is missing after an extensive search of the debris.

In Mont-Blanc the bodies of two climbers from the Ukraine have been found at the foot of the Goûter couloir on the normal route to Mont Blanc. The two victims had set out for 3 days winter climbing but a companion who had decided not to make the climb became concerned when they failed to return in the afternoon. The men's bodies were covered with snow and there is evidence of a slab avalanche in the top of the couloir, it is possible that this hit the two men as they were descending the slope.
There has been around 40cm of fresh snow over the last couple of days accompanied by rain to 1800 meters and rapidly warming temperatures (around +20C). The avalanche risk was 4 (high) on a scale of 5 at the time. Météo France had warned that the fresh snow, sometimes heavy, is lying on a fragile snowpack mixed with wind and ice crusts and that slabs could be triggered by the passage of a single skier or snowboarder. Due to the variable winds over the last few days various slope aspects are concerned, particularly above 1800-2000 meters.
Further Information
Current French Snow Conditions
French Avalanche Bulletin
Please note that the ski pistes and slopes above houses and accomodation are controlled by specialists working either for the ski resort or local government and that there should be no risk from slides if keeping to marked and open pistes or tracks. Indeed the recent snow means that there are fantastic conditions in most Alpine resorts at the moment. PisteHors.com is principally concerned with off-piste and backcountry activities. The recent accidents are a reminder that conditions can change quickly in the mountains. If you are going off-piste make sure you are properly equipped including carrying an avalanche beacon, shovel and probe and ensure that your route choice is appropriate to the conditions. Consult the avalanche and weather bulletins before setting out and ask the advice of the piste patrol, guides or mountain police where you are located
Thank you to people including those directly involved in the rescue operations and survivors who have sent in reports of incidents
Posted by on Sunday, 01 January, 2006 at 06:05 PM
Comments are now closed