Ski-Areas > Northern Alps > Savoie (73) > Tarentaise > Tignes > Off Piste
Despite being a well developed resort Tignes still has a wide variety of off piste routes, both within the resort and in the back bowls. First a word of caution. As you ski around Tignes you will notice many odd terrain features - natural half pipes and hollows. No these are not part of some boarder cross park but have been formed by erosion. They are also terrain traps. People have been killed by even quite small avalanches in Tignes within meters of the marked runs. Careful route choice is therefore essential to safer skiing and snowboarding.
There have been a number of high profile avalanches in Tignes. At the end of the 2005 season two English season workers were killed on their last day in resort when a massive avalanche high on the Grande Motte glacier swept them over cliffs.
Contents
Vallée de la Sache
On Wednesday we had a change of program, up the Aguille Percée lift to ski the Vallée de la Sache. There is usually a black piste on one side of this valley but from the lift you can either continue straight ahead into the Sache valley via a steep, 50 meter couloir, or cut back by the pisteurs' hut to ski off the ridge into many couloirs. The hut had all mod-cons, solar power, gas and the latest in fresh air sanitation judging by the yellow snow patches a couple of meters from the balcony. Charming. How far you cut back along the ridge really depends on who has got their first. You can even ski southeast down the slopes back to the piste as a warm up exercise before tacking the real thing. However these slopes are more avalanche prone and should only be skied after the snow has stabilised and as early in the day as possible. If you go as far as the Col de la Sachette you can climb to the Col de la Tourne to ski down to Peisey-Nancroix and la Plagne or les Arcs, depending on your preference. From les Arcs you could take the funicular to Bourg-Saint-Maurice and then a bus from the Gare Routiers back to Tignes. A whole day's tour.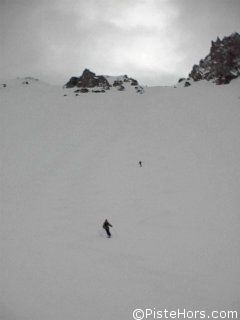 Vallée de la Sache
The Sache is a classic run in Tignes. Access is easy but it offers 900 meters of vertical in a valley remote from ski lifts. At the end of the Sache there is a steep gorge, you probably want to avoid this by tracking back over to the right of the valley well in advance and rejoining the pistes. The bottom of the gorge is impassable so in any event to you need to track back at some point.
<< History | Tignes | Arête du Genepi >>