Boy Killed in Courchevel Avalanche
A family from the Rhone-Alpes region triggered an avalanche today while skiing off-piste in Courchevel at 2,350 meters altitude in the Rocher de l'Ombre sector. The mother and her 14 year old son were buried by the slide which happened on a slope of around 35degrees. The avalanche risk at the time was 4 on a scale of 5 above 2000 meters altitude.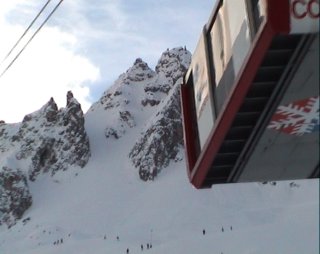 Rocher de l'Ombre
The mother was unhurt but her son was only found after 40 minutes by an avalanche rescue dog. He died later at Moutiers hospital as a result of his injuries. The other three members of the group escaped the slide.
In Chamonix a 19 year old, skiing alone off-piste was surprised by an avalanche. He managed to escape the slide by jumping a cliff. Transfered from Sallanches to Genève he is said to be in a critical condition.
It was the first day of good weather after several days of poor weather which has brought over half a meter of snow to the area. The fresh snow had been accompanied by winds from the North West. Météo France has reported avalanches on sectors from the East, North through to South-West between 2000 to 2500 meters with slides up to 100cm deep. The fresh snow is poorly bonded to lower layers and very sensitive to extra loads such as the passage of a skier or group of skiers.
There have been 10 other deaths as a result of avalanche accidents in the Savoie department this season and experts have noticed a worrying tend towards off-piste accidents.
Posted by on Wednesday, 16 February, 2005 at 08:11 PM
Comments are now closed