Weather > Snow Avalanche Conditions > Autumn 2005
Updated 30 November 2005, 18:00 20cm of fresh snow in the pre-Alps and 10cm in the interior ranges above 450 meters saw us heading up to local resort Les Sept Laux for the day. Great conditions for this time of year and lots of powder. Despite the settling of last weekends snow the off-piste is still rocky in a lot of places and best avoided at the moment. Higher up the south to south-west winds have moved some snow around and we noticed a hard slab had formed on the 2000m col de Bedina. Nothing too much to worry about at the moment as the lower layers are fairly stable but something to think about higher up. We did a beacon check before skiing the slope (one at a time) anyway.
Updated 29 November 2005, 10:00 We have heard of a number of slab avalanches on wind loaded north slopes in the central Pyrénées mountains. Nothing serious for the moment but take care. In the Alps there has been a little bit of snow on Monday particuarly in the North. With the continuing cold weather the avalanche risk (some localised slabs at altitude) will change little. Warming temperatures are expected on Wednesday which will result in some sluffing.
Updated 27 November 2005, 09:00 There was about 35cm of snow in the Chartreuse, 25cm in the more interior mountains such as the Belledonne and just 15cm in the Oisans. All this was accompanied by strong south-west winds and ridgelines were fairly bare with larger accumulations of snow on north to north-east slopes. The fresh snow was very light, where there was no base, essentially all north facing slopes below 2500 m and south facing slopes below 3000 m skiing was "rocky" with snowboarders seemingly fairing a bit better. Glacier travel remains risky with many smaller crevasses now hidden by thin snow bridges.
Updated 25 November 2005, 15:00 Slightly more snow than expected in the Alps with about 10cm in the Pyrénées. Snowfall is expected to continue over the weekend. Around 25cm at valley level with more at altitude. Winds have been fairly light below 2000m but stronger at altitude. This will have moved some snow around close to ridges and cols and may have formed some wind slab.
Les Gets and les Sept Laux are opening some lifts tomorrow. The lifts at Les Gets will be free for the opening day. Avoriaz will also open a few runs.
Updated 24 November 2005, 19:00
Meteo France has given a winter weather alert for the east of the country include the Vosges, Jura, Haute-Savoie and Savoie mountain regions. Driving conditions, even at low altitudes, will be difficult due to freezing rain.
Around 30cm of snow is expected above 1000 meters in the pre-Alps, a similar amount of snow at 2000 m elsewhere in the Alps and 40cm at 3000 meters. For the reasons outlined below (weak layers) take care on north facing slopes particularly at high altitude (>2500m) and in couloirs, cols and ridgelines. Lower down some soft slabs may form under the action of strong winds.
Due to the lack of snow a number of ski resorts have delayed their opening until the 3rd of December. Tignes is already open on the glacier du Grande Motte and Val Thorens opened its slopes today. les Deux Alpes is opening on Saturday. In the Pyrénées only les Angles and Cerdagne Puigmal are scheduled to open this weekend. Suprisingly Super Besse in the Massif Central will confirm that it will open some slopes tomorrow. Montgénevre is also expecting to open some pistes this weekend thanks to a good base of artificial snow.
Updated 23 November 2005, 17:00
A low over the Mediterranean has brought some snow to the Alps today above 1500 meters. This should be followed by more snow over the weekend with a low moving down from the Artic bringing colder unsettled air over the Alps for the next week with the best weather expected on Thursday.
Currently there is about 5cm of snow at 1800 meters with around 20cm at 2400 meters on shaded north facing slopes. Glaciers are only partially covered.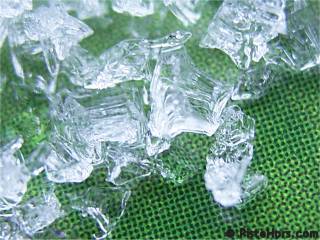 Facetted crystals
So what is all this fresh snow going to rest on? We took a tour to the Col de la Mine de Fer to find out. Our sample was taken at 15:00 on the 22nd November, 2407 meters altitude, grid reference N 45°11.876' E 5°59.323' On a shaded North Facing slope.
Snow depth: 15cm
Air Temperature: -6.3C
Snow Surface Temperature: -9.1C
Ground Temperature: 0.3C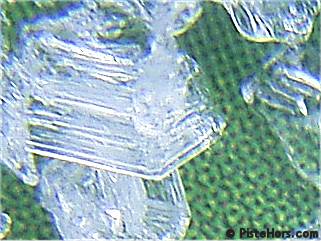 Cup shaped crystals
That is a temperature gradient of 63C/meter. Temperature gradients of more than 10C/meter will lead faceting, creating weak layers in the snow pack. This is exactly what we found with a layer of 5cm of facetted crystals and cup shaped depth hoar sometimes known as gobelets. So called because they are like a load of wine gobelets – very strong in compression such as a snow slab but very weak if a sheer force such as a passing skier is applied.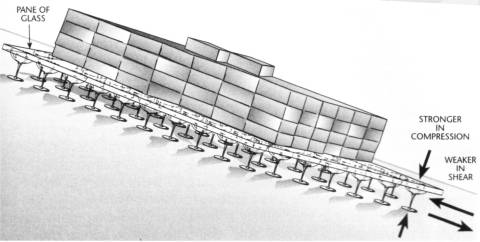 "depth hoar schematic'''
from Staying Alive in Avalanche Terrain
(Amazon:0898868343 or Amazon-UK:0898868343 )
We also observed surface hoar at lower altitudes (1800-2000 meters), again this can form a weak layer if buried. Both things to bear in mind if venturing out after the new snow.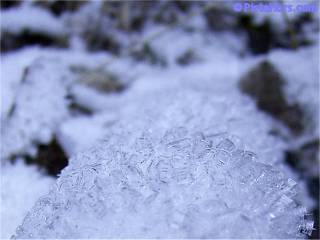 Surface Hoar
Updated 18 November 2005, 11:00
A resident of Valgaudemar in the Hautes-Alpes department was killed after a cornice collapsed at 3000 meters in the early afternoon yesterday on the italian side of the Col d'Agnel.
The resort of Val d'Isère has put back its opening one week until the 3rd of December.
Updated 17 November 2005, 10:00
The weather system that tracked across France brought colder weather and strong north-easterly winds but only a little fresh snow to the French Alps. The mountains certainly look a lot more wintry with the first snow at around 1800 meters. Temperatures are down to -10C on at la plagne bellecote and the zero isotherm is around 1200-1500 meters. The Pyrénées especially the Ariège are still the best served with another 15cm over the last 24 hours bringing the total to around 50cm at 2500 meters with skiing down to 2300 meters with a good base. Météo France from Tarbes reports (see http://www.skirando.com) that there is around 80cm of snow at 2500 meters above Gavarnie in the central Pyrénées with a buried freeze/thaw crust below 2200 meters. At 2500 meters a snowpit showed a weak layer consisting of rounds at 50cm below the surface with visible avalanche activity. They warn backcountry users to take care on steep slopes.
The cold surface temperatures and thin snowpack will lead to a further destructuring of snow crystals on north sector slopes. The risk of avalanche, apart from some small local slabs at altitude, is low but these weak layers will present a danger after the first significant snowfalls of the season. The strong N/E winds will move some of the fresh snow onto S-SW slopes.
Updated 14 November 2005, 09:00
The snowfall in the Pyrénées was less spectacular than forecast, around 20-30cm in central areas above 2500 meters but this fell on an established base. The zero isotherm is also around this level. The Southern Alps and Oisans also saw some 10-15cm above 2600 meters with the freezing level at 2500 meters. The snowfall was accompanied by moderate winds with gusts to 60km/h. Snow levels are around 30cm at 3000m. It is possible to ski from 2700 meters.
There was no appreciable fresh snow in the Northern Alps where conditions remains very poor with no significant snow depths below 3000 meters.
Crevasses remain open on glaciers.
Updated 11 November 2005, 11:00
Another warm day in the Alps with the zero Isotherm above 3000 meters. A low over the Mediteranean sea will bring up to a meter of snow to the central Pyrennes above 1200 meters and to the southern Massif Central over the course of Saturday and Sunday. There will be lighter snowfall in the Southern Alps particularly on the border with Italy. This snow will penetrate as far as the Oisans massif but with very little reachng the Northern Alps.
Updated 9 November 2005, 21:00
The snow failed to materialize in the Northern Alps and temperatures have been fairly mild with the zero isoterm around 2800 meters. Snow is forecast for Saturday and Sunday. Snow cover is generally poor, there is around 30cm of snow at 3000 meters and crevasses are either poorly bridged or open on glaciated terrain.
The situation is different in the Pyrénées which has seen around 20cm of snow above 2000 meters and 50cm above 2500 meters. This has fallen on a 10cm base above 2400 meters. There is talk of Andorra opening a few high lifts this coming weekend although heavy snow is forecast. The snow has been accompanied by some strong winds from the North at altitude and care should be take where there are large accumulations of snow.
Updated 6 November 2005, 18:00
After an extremely warm October, record breaking in some areas of France with temperatures in the low 20C in the Alpine valleys the weather has turned somewhat cooler. A depression (probably caused by all the ski mountaineers sitting miserably at home!) tracked in from the West over the course of Friday reaching the pre-Alps around 4pm. At 2000 meters altitude the temperature dropped from 9C at midday to around 1C and there was a light dusting of snow above 2100 meters. The moderate, warm southerly wind (strong at 4000 meters) swung around from the South-East to North early on Saturday with gusts up to 30km/h at 2000 meters some snow may have been transported. There may be significant accumulations at high altitude close to cols and ridges and in couloirs that have not yet purged.
In the Ecrins there was around 20 to 30cm of fresh snow above 3000 meters and about 10cm fresh further south at the Col d'Agnel. Further north the summits of the Vanoise saw a dusting of 5cm above 3000 meters.
The zero isotherm is currently between 1600 meters at 6am rising to around 2800 meters during the day (average 2200 meters). The outlook is for further light snow above 1200 meters from Wednesday continuing until Sunday.
October
October started out well with snow down to 1600 meters in the pre-Alps. Further south and along the border with Italy there was close to a meter of snow providing excellent conditions for ski touring (Pain du Sucre, Col d'Agnel etc) which lasted the whole month despite very warm conditions. Further North little snow was left below 3000 meters. The Mondial du Ski and Snowboard at les Deux Alpes was restricted to the glacier.
<< December 2005 | Snow Avalanche Conditions | Retrospective on the 2004/2005 season >>