Ski-Areas > Massif Central > Puy de Dôme (63) > Monts D'Auvergne > Super-Besse
Contents
Description
The ski resort of Super-Besse is situated in the Monts D'Auvergne area of the Puy de Dôme department in the Massif Central region. It is part of the Mont Dore - Super Besse ski domain although the link is subject to weather conditions. The lift served area extends from 1350 metres to 1830 metres. There are 87 km of lift served runs with 17 drags + 3 chairs + 1 bubble lift. The lift infrastructure is currently being improved. There are 120 km of cross country trails. There are also 83 snow canons, perhaps reflecting the more difficult climate compared to its neighbour. Very windy with all the problems that go with it.
History
This is where skiing started in the Auvergne when, in 1902, a local priest, MJ Blot, brought back some skis from the Black Forest in Germany. The befrocked clergyman was much derided by the locals riding around on his planks of wood, they thought it unfitting.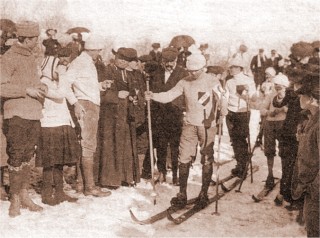 Ski competition in Besse in 1907, Michelin, next to the priest is holding a stopwatch
However by 1907 the first ski competitions were being organised by the Besse ski club. Apart from Blot the club had Marcel Michelin as its honary President. Michelin was the son of the Michelin tyres magnate and he invented the tires used today on line 1 of the Paris metro. A resistor against the Nazi occupation in France he died early in 1945 in a German concentration camp.
The town's most famous former resident is the legendary "Reine Margot" who was immortalized in the eponymous book by Dumas. The town also has an excellent ski museum, well worth the visit.
Off Piste Routes
Compared to Le Mont Dore the off piste is rather uninteresting, there is the tour du Paillerait but it is not very steep.
Travel
Nearest Airport(s): Clermont Ferrand
Road: Autoroute A 75, take the Besse, Champeix exit.
Rail: TGV Station at Clermont Ferrand
Accomodation
We stayed in the excellent Hôtel Le Clos which is situated on the outskirts of Besse. It is part of the Logis de France group and has a small indoor heated swimming pool. Tel: 04 73 79 52 77
Restaurants and Bars
Besse is a traditional Massif-Central town built out of the black volcanic rock of the mountain. There are some excellent restaurants in the town particuarly around the square. Be sure to arrive early as they tend to stop serving food around 9.30pm
Shopping
We don't all ski 24/7, if there are shops: ski, fashion or bookstores you think people should know about mention them here.
Guides and Instructors
Only include guides and instructors who cater for off-piste or backcountry. Please specify whether they take snowboarders.
Useful Information
http://www.auvergne-neige.info/
email: ot.superbesse@laposte.net
Respect copyright. Contributions must be your own work and not copied from other web pages or elsewhere.
Category: Ski Areas
<< Le Mont-Dore | Puy de Dôme | >>