Ski-Areas > Northern Alps > Savoie (73) > Tarentaise > Tignes > Off Piste > Mickey's Ears
We had other plans but in the end returned to the Aguille Percée but this time continued further to the Col de la Sachette, this eventually links to the Sache run. But to reach this run we traversed around under Mickeys Ears to the Lavachet slopes. Les Oreilles du Mickey is possibly Tignes' most well known off-piste route and certainly one of the more difficult. The run gets its name from the curious double transmission aerial which is said to resemble the Disney cartoon mouse. The start is reached by skiing north from the Toviere then climbing a ridge to the Pointe de Lavachet. Keeping the aerials to the right you come across a steep couloir often entered after jumping a cornice, a little further on there is a second couloir, wider and not as steep which may be more to some people's liking. You can ski to la Daille or even down to the lake. Vamos suggests that you can cross over the old bridge at 'low tide' although I've heard of heliportage and even crossing over the reservoir on a boat. Probably best to inquire at local ski schools to see what they have to offer.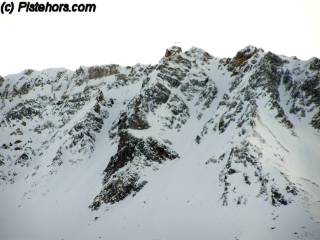 Mickey's Ears
The Lavachet runs more properly start from the paravalanche (avalanche protection) below the Point de Lavachet. They are wide open slopes and, being visible from the pistes below, get tracked quickly as people are never afraid to go in the path of others. They are prone to avalanches, so beware.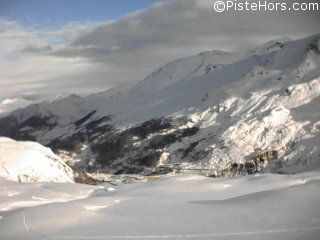 The Lavachet slopes
<< Col du Chardonnet | Tignes | Travel >>