Ski-Areas > Pyrénées > Haute-Garonne (65) > Luchonnais > Peyragudes > Off Piste > Vallée Blanche
We finished off the day with the Vallée Blanche, depending on the snow conditions you can ski down around 5km to join the Luchon road and then either hitch or take the bus back to the station. The valley is North East to North facing and guards its snow late into the season. We reccied this on the drive up, it was possible to ski nearly to the road but the bus didn't seem to be running, although a large party of school children were hanging around with a expectant look. However we thought that it would be possible to cut across the hill and then climb a bit back to les Agudes.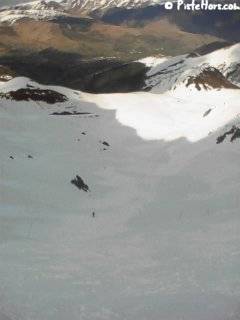 The Vallée Blanche, yes really!
However before we got to the start we were stopped by a pisteur. "The resort is closing now, go back to your car by the quickest route please". We told him our plan. "You are really making your life difficult you know?" He checked our equipment and invited us over to the Pisteurs office to sign a disclaimer. "Once you've signed this you are on your own, okay?" I signed for me and Ian and we hiked up to the summit of the Pêne Nère drag lift. From here you can climb a further 20 minutes to the Cap des Hittes to descend along the ridge then into the large north facing bowl. This is frequently dangerous with large slab avalanches forming on its slopes.
We chose to stick to the closed and un-pisted Pêne Nère black. This goes through a few twist and turns at the summit before flattening out. At this point you track left into the valley. There are a few red posts giving a guide to the route to be taken, although it is really a case of finding the most skiable snow. Half way down there is a small refuge then barb wire fences before crossing into scrubby woodland. The track to the road seems to keep guard its snow but it is a long walk back to the village. We traversed right and crossed a stream before the snow ran out.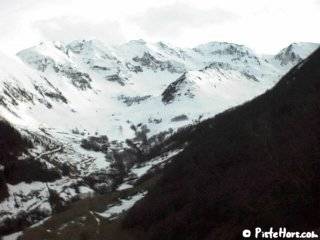 Demain ne meurt jamais
We followed the contour around to a water station then climbed a short but very steep slope up to a parking point just below the village, about 30 minutes of hard going. I stayed with the gear and Ian fetched the car for our return to Toulouse.
<< Couloirs des Flammes | Peyragudes | Peyragudes Off Piste Map >>