Ski-Areas > Jura > Ain (01) > Lelex - Crozet
Contents
Description
The ski resort of Lelex - Crozet is situated in the Ain department in the Jura region. It is part of the Monts-Jura ski domain. The lift served area extends from 640 metres to 1650 metres. There are 50 km of lift served runs. There are 140 km of cross country trails. The resort features a snowpark.
History
Add a history of the resort here
Off Piste Routes
Le Reculet
I was due in Cham for the weekend for a French Snow and Avalanche course but figured I could do a little ski tour on the way. I'd originally wanted to stop in the Aravis again but the high winds, snow, rain and whatever persuaded me this was a bad choice. So just before Geneva I took a left turn into the French Jura mountains. This is a long spine of low peaks rising to around 1700 metes (5,600 feet)
My new target was Le Reculet, this 1717 meter peak situated on a long ridge is the second summit of the Jura. Cartographers have argued about the high point of the range for some time but recent work with special GPS units has confirmed the primacy of the Crêt de la Neige.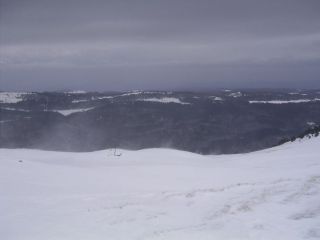 Jura looking westwards
My original choice of route, a west face, involved some 250 meters of 'portage'. Climbing with skis on my rucksack so I tried a different tack, a north west route through the forest close to the ski resort of Lelex. This slope seemed to have held its snow well. I climbed with skis from the parking at 880 meters and pretty soon was deep in fresh, but heavy snow. Higher up, the path vanished beneath this mantle of snow and I was left to zig-zag up between the trees.
Exiting the forest I realised just how severe the wind was, probably some 80km/h which was blowing snow around and at some point threatening to knock me off my feet. The summit was just too windy to take any photos, you can see the snow moving around in this picture.
Then I traversed across the ridge to attack the descent by the most direct route possible. I'd spotted that the trees were very sparse over a long corridor... probably the result of a large avalanche... maybe during the severe winter of 1970?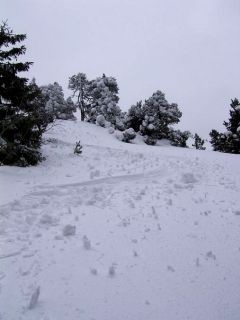 Reculet Powder
This offered quite pleasant skiing until 1350 meters where the slope steepened and narrowed before leading onto a small rock band. I took a look, there was about 20 meters of 55 degree slope with some snow and vegetation but it didn't look feasible to go this way. I climbed up and took a detour to reach the rock band at its foot.
The last few meters involved battling through a dense thicket that had grown up which was the least pleasant part of the route.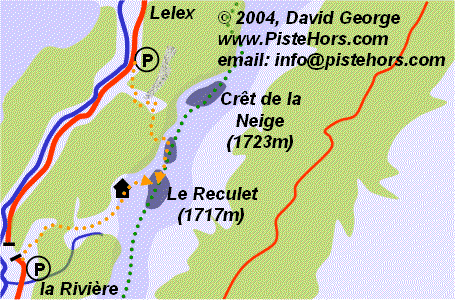 Reculet and Crêt de la Neige Map
Travel
Nearest Airport: Geneva Cointrin 15km (20 minutes)
Road:
Rail: Bellegard TGV
Accomodation
La Dépendance
Hire your own independant property - recently renovated to a high standard. Situated just 15 minutes from the ski areas of Crozet and Lelex. Mijoux, La Col de la Faucille and the Alps all within easy access. Friendly owners and friendly prices. Book now for winter 2008!
http://www.la-dependance.co.uk//
Bois Joly
Nice hotel restaurant by the Crozet lift. Rooms are very good value.
Restaurants and Bars
Tell readers about any good restaurants and bars in the resort
Shopping
We don't all ski 24/7, if there are shops: ski, fashion or bookstores you think people should know about mention them here.
Guides and Instructors
Only include guides and instructors who cater for off-piste or backcountry. Please specify whether they take snowboarders.
Useful Information
Include any further information and links to the resort here
Respect copyright. Contributions must be your own work and not copied from other web pages or elsewhere.
Category: Ski Areas
<< Menthières | Ain | Mijoux - Col de la Faucille >>