Ski Areas > Northern Alps > Belledonne > Prabert > les Illettes
Description
There are two parts to the Illettes. An upside down funnel shaped couloir. The slopes above can purge into this couloir in spring weather and a large face, oriented to the south-west, that can form a large slab when the wind conditions are right (north to east). The slope transforms late in spring so can be combined with the south couloir of the Belle Etoile.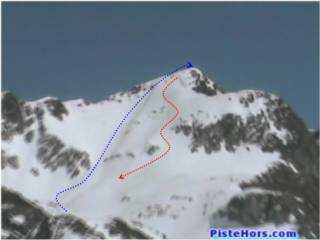 les Illettes from l'Aigleton
Follow the same route as the col de l'Aigleton then ski down into the Belle Etoile valley (either keep your skins on for a gentle traverse across the slopes on the left or remove skins and ski straight down by the Aigleton weather station to stop 150m lower down).
Climb up the south-west valley opposite, either in a small couloir or using the ridge on the right bank to reach a flat section at the lake de Grand Clot at 2435m. Continue up the valley following the left bank and then climb a couloir to the right which leads up to ridge. At the ridge traverse to the left to climb to the summit of the Illettes.
The first few turns under the summit are steep, the slope then flattens out. You can either ski down the face or follow the couloir.
| | |
| --- | --- |
| Mountain Range | Belledonne |
| Summit | Les Illettes |
| Altitude | 2700m |
| Orientation | South-West |
| Starting Altitude | 1336m |
| Vertical | 1650 m |
| Maps | IGN n°3335 ET Bourg d'Oisans |
| GPS Waypoint | N 45.2342°, E 06.0556° |
| GPS Route | Google-Earth:Prabert |
| Grade[1] | Danger: 1, Climb: D-, Ski: 4.1 |
| Comments | The starting altitude varies with the snow cover on the road, possibly 1025m in winter |
| Snowboarders | Yes |
| Road Access | Grenoble > Brignoud > Prabert > D528 to the limit of snow cover |
| Refuges | Habert d'Aiguebelle? |
| Author | davidof |
Trip Reports
20th February 2007
Another beautiful spring like day with not a cloud in the sky. The snow was refrozen for the climb and spring like on the descent although getting quite soft around 2100m under the Belle Etoile. There was even some dense, old powder on the Illettes face but this hid a few layers of ice – take care for the first few turns. We skied down from the Aigleton at 2pm in near perfect spring like conditions, bizarre for a mid-February. The forest was well "pisted" with a thin layer of ice where the snow had remained in the shade but altogether nice to ski. Some rocks are showing on the track but these are fairly easy to avoid.
We met Benji, Philippe and Etienne climbing the forest trail. They were heading for a long tour of the Replomb.
Weather : Warm, Sunny, Zero isotherm @ 2000m
Avalanche Risk: Moderate (2/5) to 2500m, (3/5) higher up
Participants: David, Anny, Guy, Luc to the Aigleton
Snow level: 1300m
This is a short video of the les Illettes
Category: Trip Reports