Ski Areas > Northern Alps > Belledonne > Prabert > Col de Aigleton
Description
From the Pont de la Betta follow the forest trail to the Habert de l'Aiguebelle. From here head to the north-east towards a large suspended valley. There are a three short climbs. For the descent aim either for transformed snow on the right bank or powder on the left. This is a good introduction to ski touring for good skiers but the snow is often crusty.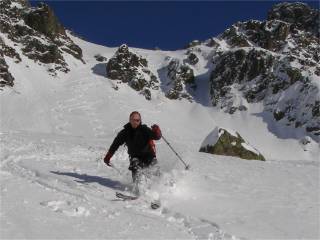 Powder under the col de l'Aigleton
Precautions The forest trail is avalanche prone, threatened from the slopes of the Jas des Lièvres. The slopes under the Pic du Pin are prone to slab avalanches
| | |
| --- | --- |
| Mountain Range | Belledonne |
| Summit | Col de l'Aigleton |
| Altitude | 2266m |
| Orientation | South-West |
| Starting Altitude | 1336m |
| Vertical | 920 m |
| Maps | IGN n°3335 ET Bourg d'Oisans |
| GPS Waypoint | N 45.2416°, E 06.0328° |
| GPS Route | Google-Earth:Prabert |
| Grade[1] | Danger: 1, Climb: PD, Ski: 2.1 |
| Comments | The starting altitude varies with the snow cover on the road, possibly 1025m in winter |
| Snowboarders | Yes |
| Road Access | Grenoble > Brignoud > Prabert > D528 to the limit of snow cover |
| Refuges | Habert d'Aiguebelle? |
| Author | davidof |
Trip Reports
15th February 2007
We decided to link the Aigleton with our visit to the Cime de la Jasse. We encountered fresh snow on a reasonably hard base, sometime breakable which meant skiing lightly. It was a hot day for mid-February. Good skiing in general although there were some rocks poking through at 2100m. The forest trail was generally skiable although a bit cut up.
Weather : Warm, Sunny, Zero isotherm @ 2200m
Avalanche Risk: Considerable (3/5)
Participants: David, Anny
This is a short video of the Cime de la Jasse
20th January 2006
We set out for the Cime de la Jasse but changed direction under the lacs de Vénetier due to an almost unclimbable crust that broke with every step. Very warm at the col and a fantastic descent in powder snow on the left banks. The forest was also powder.
Weather : Sunny
Avalanche Risk: Considerable (3/5)
Participants: Luc, David, Marco, Isa
Category: Trip Reports
<< Les Illettes - Aigleton | Prabert | Orionde - west face >>