Ski-Areas > Northern Alps > Haute-Savoie (74) > Mont-Blanc > Chamonix Mont Blanc > Chamonix Grand Montets Off Piste
Les Grands Montets Off Piste Skiing
When people think off piste skiing at Chamonix they are usually thinking of the Grands Montets above Argentiere.
Pas de Chevre this article makes the route finding at the end seem easy. It is as long as there are other parties to follow, otherwise go with someone who knows the route ... some have required helicopter rescue when missing the exit couloir.
Les Autrichiens
le Chapeau
Couloir Trapette
Couloir Philippe
Avalanches often, very rocky, not often in good condition. Risk of setting off avalanche onto the Pierre à Ric piste below, so sometimes bombed by the pisteurs.
Couloir Boucheron
Grand Mur
Retour Glacier
Combe du Cordier
le Face
Tabé Couloirs
Tabé sector couloirs are short readily accessible off piste terrain to hone your skills in within easy reach of lift stations and pistes below by the Plan Joran restaurant. They descend either side of the Tabé chairlift (see map). The skier's left hand couloir is by far the most difficult in that at it is very narrow at one point and still steep, it needs good snow cover otherwise it is very rocky. The exit route takes you through a small section of forest which can be tricky too. The middle route is by far the most commonly accessed and easiest route, it is readily visible underneath Tabé and sometimes I wonder why it is not just a piste. The right hand route is not to be underestimated, it is a vast area with some steep sections and serious boulders. It is also the most committed route as it is further from pistes and lifts than the others. It is a real powder stash too, but be careful as it is a remoter less accessible area than the other 2.
Grands Montets ski tours
Grand Montets Off Piste Map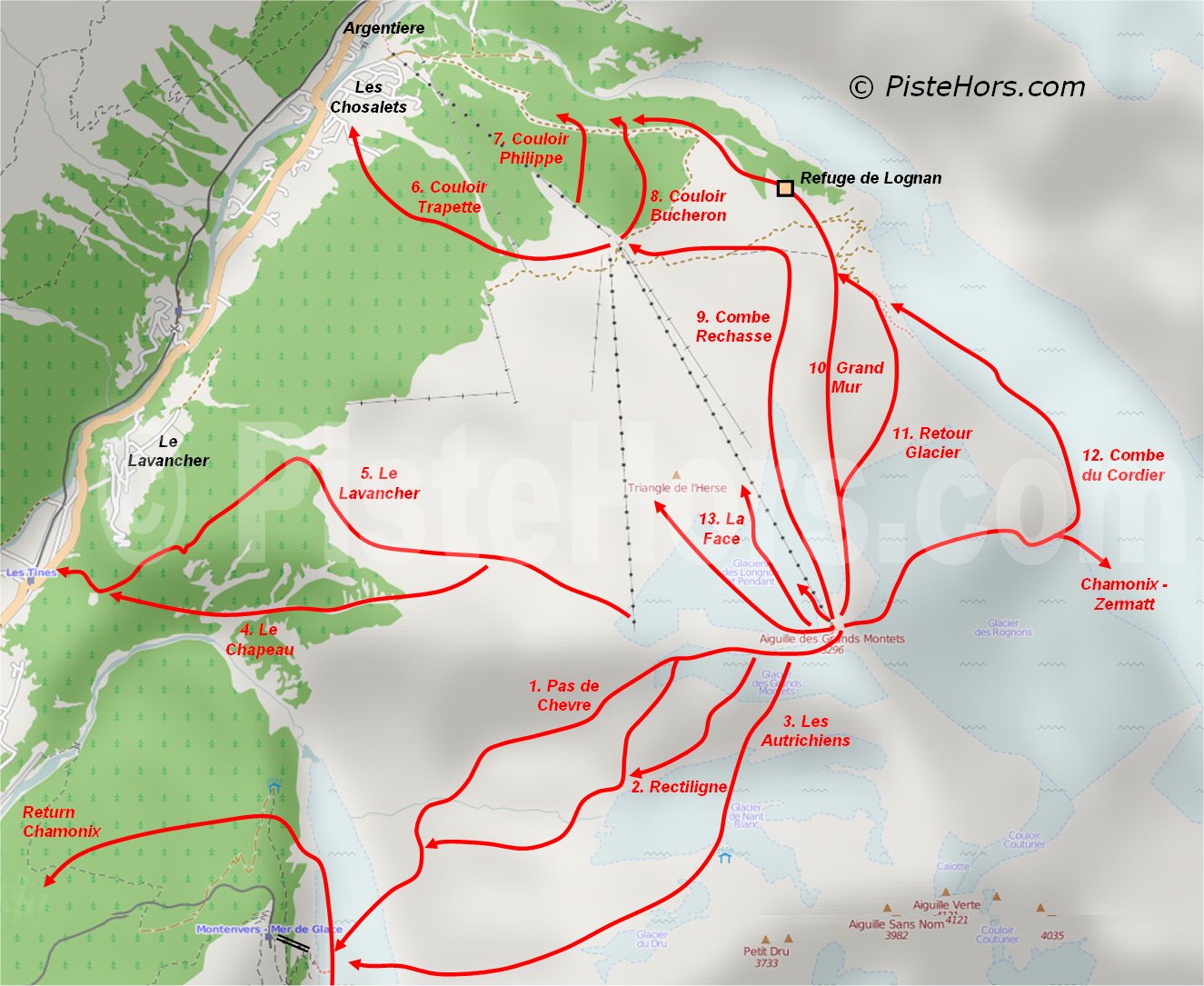 << Mont Blanc | Chamonix Mont Blanc | Col Cornu? >>