Ski-Areas > Northern Alps > Haute-Savoie (74) > Mont-Blanc > Chamonix Mont Blanc > Le Col Du Chardonnet
Description
This is the starting point for the Chamonix-Zermatt Haute-Route. From the refuge d'Argentière descend to the glacier and keep to the right bank. Pass the Glacier du Milieu on your right. The glacier du Chardonnet is the next opening on the right. If possible keep fairly close to the right bank initially before moving into the middle of the glacier at around 3050 meters.
| | |
| --- | --- |
| Mountain Range | Mont Blanc |
| Summit | Le Col du Chardonnet |
| Altitude | 3323m |
| Orientation | South-West |
| Starting Altitude | 2771m (refuge d'Argentière) |
| Vertical | 550 meters |
| Maps | IGN TOP 25 3630 OT chamonix |
| GPS Waypoint | N 45.9667°, E 07.0114° |
| GPS Route | Google-Earth: |
| Grade[1] | Danger: 1, Climb: PD, Ski: 2.2 |
| Comments | Glaciated route |
| Snowboarders | Yes |
| Equipment | crevasse rescue equipment |
| Road Access | From Argentiere take the Grands Montets calbe cabin |
| Author | davidof |
Comments
Col du Chardonnay
We got up at 5.00 am and fetched snow from outside. It was still dark and the snow took ages to melt. In the meantime I'd found that my salopettes had vanished from where I left them on the hook the night before. We were sharing with a second group who were heading to the top of the valley with the aim of climbing some couloirs there. A long search of the refuge by all our group eventually found my clothes in the kitchen! It would seem that in the dark one of the other group had made a mistake, then rather than returning the item to where he found it he simply dumped it where he was. Great and really something to watch out for when staying in refuges, without salopettes I wouldn't even have been able to descend to Chamonix.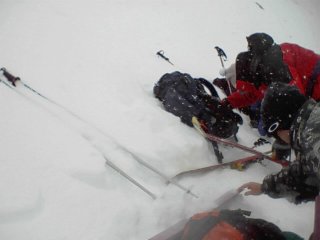 Juliette and Gervais put on their skins
The weather was getting worse outside. We quickly made breakfast and got ready to head into the cold. From the refuge we kept to our side of the valley and tried to avoid losing too much height. Eventually we came to the start of the col. A steep but wide valley that needed kick turns to climb.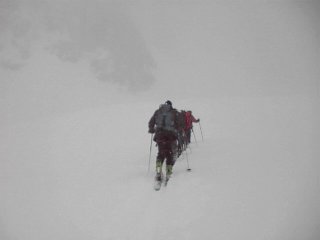 Climbing to the Col in a Whiteout
Towards the summit the wind picked up although the cloud never cleared. It was impossible to see down to the Le Tour side and we decided to make a U-turn at this point rather than continue with our plans. The ski back was in a light, pleasant cover of powder although visibility was nil. After rejoining the main valley we pushed across to the other bank and eventually found the pistes from the Grands Montets. Visibility began to improve in resort and we skied most of the way back to Argentiere. The snow finishing rather abruptly a few hundred meters from the car-park.
contributed by davidof on the 17th April 2001
<< | Chamonix Mont Blanc | >>