Gear > Ski > Freerando > Freerando Boots > Scarpa Tornado Eco
The Tornado Eco is a redesign of the Tornado ski touring boot. The Tornado is popular with ski patrollers and performance-driven ski tourers. The Tornado Eco is a freeride boot designed to drive big skis in big mountains.
The Tornado Eco comes with two tongues: a rigid ski tongue and a hinged touring tongue. Skiers can tune the flex of the boot for their kind of skiing.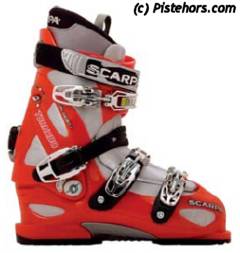 Scarpa Tornado Eco
The boot is equipped with the Scarpa/Vibram alpine-touring Ride sole. This is the only sole on the market that can be used with both alpine-touring and alpine bindings. It is certified for release in both AT and alpine bindings.
The boot has the Ultralon foam Intuition Speed Pro liner with an alpine-style tongue. We've been using the Intuition liners this winter and they really are a step up in heat mouldable lining technology. Scarpa claim they are available in half sizes – we looked at a 26.5 and 27 liner and they seem to be the same, but with a different boot insert. The clips have been updated for easier boot entry.
<< Scarpa Tornado | Freerando Boots | Scarpa Tornado Pro? >>
---