Gear > Ski > Ski Touring > Touring Boots > Dynafit Zzero3 PX MF / PX TF
In the same vein as the Dynafit Zzero4 U-MF the Zzero3 PX-MF and PX-TF replace carbon fibre with Rislan for lower cost. Weight is similar to the Dynafit Zzero3 C-TF with the Zzero3 PX-MF tipping the scales at around 3220 grams for a pair in size 27.5. It offers the same advantages as the carbon version. A lower cuff for better climbing ability. The boot come with the smaller mid-version of the MF and TF liners. We found the Multiform liner in this boot to be very comfortable. The Zzero3 is a surprisingly small boot, it is probably equivalent to the Scarpa Matrix but about 1cm shorter and a little bit stiffer. We really liked the Matrix, so if that is anything to go by the Zzero3 range should be a winner.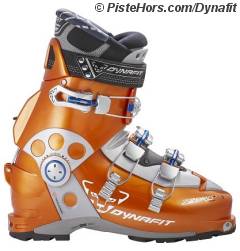 The Zzero3 PX-MF and PX-TF are, naturally, compatible with Dynafit's Quick Step bindings. They use the new DynaGrip sole which is compliant with the recent ISO9523 standard. The boot works with all current and forthcoming touring bindings. There are no canting adjustments. The boots come with a ski/walk function and have a 15/21 degree forward lean.
Weight: 2990 g (thermo liner), 3220g (multi liner) grams / pair in 27.5
Pebax/Rislan
Sizes: 25 – 30.5 mondo + half sizes
Manufacturer Dynafit
Cost: 379 € (MRP), 359 € (street price)
<< Dynafit Zzero3 C-TF | Touring Boots | Dynafit Zzero2 C-TF >>
---