Gear > Ski > Ski Touring > Touring Boots > ''Dynafit Zzero 2 C-TF
The Zzero2 C-TF is a two buckle ultra lightweight touring boot weighing a claimed 1395 grammes. We didn't get to weight this one but so far Dynafit's claimed weights have been accurate. It is similar to the Zzero3 C-TF? with a carbon fibre powerstringer and tongue but with one less buckle will be less precise for the descent. A boot for good skiers coverage a lot of altitude and comes with its own Thermoformable lightweight inner boot.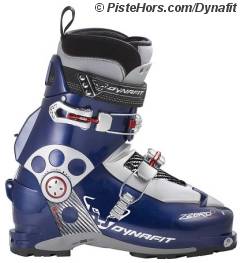 The Zzero2 C-TF features Dynafit inserts and also has the new DynaGrip sole that complies with the recent ISO9523 standard. The boot works with all current and forthcoming touring bindings. There are no canting adjustments. The boots come with the usual ski/walk function but also have a 15/21 degree forward lean that can be dialled in by the user. Dynafit says their switch uses patented technology. Despite being small it seemed to function without any problems, locking and releasing the cuff.
Weight: 2790 g (thermo liner) / pair in 27.5
Pebax - carbon
Sizes: 25 – 30.5 mondo + half sizes
419.00 EUR (mrp)
Manufacturer Dynafit
<< Dynafit Zzero3 PX-MF, PX-TF | Touring Boots | Dynafit TLT 4 Race Pro TF >>
---