Gear > Ski > Ski Touring > Touring Bindings > Dynafit Tourlight Comfort
It is hard to improve on perfection as Dynafit were to discover with the Tourlight Tri-Step binding. The original Tourlight Tech bindings earned Dynafit an enviable and deserved reputation for reliability and lightness. The silver bullet of ski touring. Perhaps the only problem was the lack of adjustment for different boot sizes (although a hire plate is available) and the rather frightening front prong that holds the toe of the ski boot via special lugs.
With the TLT Tech having conquered the hardcore race and touring sectors Dynafit wanted to extend the reach of their design. Enter the Tourlight Tri-Step binding. This improved version was a bit heavier than the TLT Tech at 750 grams or closer to 900 grams with brakes. The rear binding offered greater adjustment, over 3 Mondo sizes and a slightly improved range of heel lift positions as well as longer prongs to hold the heel of the boot, no more popping out when skis were overflexed. The original metal riser was replaced by a plastic tube called the "volcano" designed to be simpler to engage a ski pole for adjustments. The front binding had a plastic cowl hiding the meccano look and making it easier to engage the toe of a ski boot.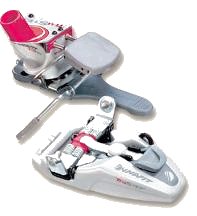 Tourlite Tristep Binding
Problem reports soon started coming back from the field. These mainly involved icing on the front binding. It seems snow could build up under the plastic cover jamming the binding. However there have been well covered by Tom Wolfe and on Lou Dawson's Wildsnow.com. The plastic volcanos and the plate holding ski crampons were also subject to breakages. Maybe under excess loads but for a binding that should work when a skier is miles from civilization, never-the-less worrisome. The TLT Tech also suffers from the crampon clip breakage problem.
Dynafit decided to replace the Tristep at the start of the 2003-2004 season with the Comfort. This is a hybrid between the TLT Speed's reliable toe-piece and the heel from the Tristep. We have tested this binding over 75,000 vertical meters as well as a couple of weeks in resort. The ski brakes were not particularly reliable at releasing and we also suffered a breakage to the ski crampon clip (replaced free of charge and overnight by our Barthelemy in Grenoble). Apart from that it is a solid and reliable binding with a boot release that works well enough for backcountry use. Given the higher price (around 50 €) it is probably only worth buying if you require the limited adjustment offered for different boot sizes.
2006 Update
For the 2006-2007 season the Comfort gets a ski crampon binding plate reinforced with metal. This should cure most of the breakage problems experienced with this part.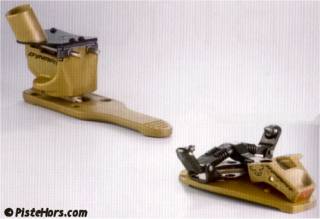 Dynafit Comfort Binding
Manufacturer: Dynafit
<< Dynafit TLT Speed | Touring Bindings | Dynafit TLT Vertical ST >>
---