Gear > Ski > Ski Touring > Touring Bindings > Dynafit TLT Vertical Race Ti
The Dynafit TLT Race Ti binding has been slightly modified for the 2006/7 season. The heel piece gets a slight rise for the neutral position and half step giving three different heel rises. Dynafit's pro team carried out a lot of experiments with step lengths and frequencies and they claim that the half step can improve step length by 5cm giving a 300m flat lead over 1000 meters of climbing all things being equal.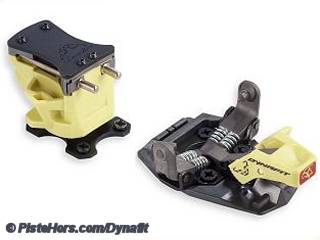 Dynafit TLT Vertical Race
The TLT Race TI is built from Titanium and Titanal®, a high strength aluminum alloy as well as stainless steel and composite parts. It weighs 15 g more than the Race Ti.
Manufacturer: Dynafit
529.00 EUR (MRP)
<< Dynafit TLT Race Ti | Touring Bindings | Dynafit TLT Speed >>
---