Gear > Ski > Ski Touring > Touring Bindings > Dynafit TLT Vertical FT
Based on the Comfort design the Dynafit Vertical FT comes with integrated ski brakes and a redesigned heel lifter and top plate. The front locking level has also been lengthened and is easier to use. The heel certainly looks more robust than the Comfort design which has suffered some breakages but a season's customer testing in cold weather conditions will show if there are any weaknesses.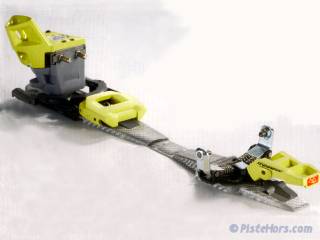 Dynafit TLT Vertical FT
The binding comes either with 92mm or 100mm brakes to fit the widest skis on the market. Dynafit engineers claim a 20% increase in torsional rigidity. Construction is titanal, stainless steel and composite man-made materials.
Weight: approx 1150 gram (pair) including all mounting screws
Manufacturer: Dynafit
379 EUR (MRP)
<< Dynafit TLT Vertical ST | Touring Bindings | Fritschi Diamir Titanal II >>
---