Gear > Ski > Ski Touring > Touring Boots> Dynafit Aero TF
With the backcountry freeride/freerando market booming this is Dynafit's response to the Garmont Megaride and Scarpa Matrix. Dynafit claims that the Personal-Fit system adapts the boot to all foot shapes with no pressure points and say that blisters will be little more than a bad memory. The Aero is supplied with two different inner boots. The Aero TF is 100% thermoformable. Unfortunately themoformable liners are no good for hire boots, or testers, so for 20€ less a standard inner boot (Aero) is available.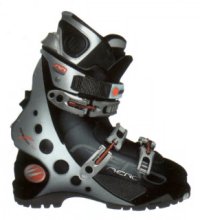 Dynafit Aero TF
The inner boot is equipped with an air circulation system which removes transpiration guaranteeing a dry and warm foot. This seemed to work quite well when climbing. The boot is an aggressive silver and black affair using state-of-the-art double injection. This year's model is equipped with three aluminum buckles and an adjustable spoiler. The 2005/2006 season sees the introduction of a four buckle model, the Dynafit Aero FR. The three buckle boot is quite soft and may not give aggressive skiers, especially those using bigger skis, the control they like. Our tester preferred the Dynafit Dynafit TLT 4 TF Evo. The four buckle is slightly heavier but comfortable with much better forward pressure. If you require a boot that offers downhill performance it is probably worth waiting until this arrives. We liked the look of the boot, the plastics seemed better than on the Garmont although we are not sure about the silver stiffener which is characteristic of Dynafit boots. The shell fitted a medium to large foot.
Getting into Dynafit Step-In bindings has always been something of an art. The aero has special guides, dubbed the Quick-Step-System, which help positioning the inserts in the toe-piece. These seemed to work well although you shouldn't expect miracles, the bindings still take a bit of getting used to.
The boot is light, the 2005 catalogue claims 2900grammes in size 42 and available in the following Mondo sizes: 26, 26.5, 27, 27.5, 28, 28.5, 29, 29.5. It is not clear whether these are real half sizes or if the thermo liner is supposed to take up any slack. We couldn't find any half sizes available in local stores.
Initial feedback is that the boot is much heavier than the pre-season marketing claims, closer to 3500 grammes and the thermoinner boot is uncomfortable for some foot sizes. A major update is underway for 2006.
Manufacturer: Dynafit
<< Dynafit TLT 4 TF Evo | Touring Boots | Dynafit Aero FR >>
---