Gear > Ski > Ski Touring > Touring Boots > Dynafit Aero FR
Dynafit suffered some fit problems with the 2005 Aero range. The thermoform liner didn't adjust to a wide enough range of feet and some found the original three buckled Dynafit Aero TF too soft for a boot oriented to Freerando not to mention Freeride use.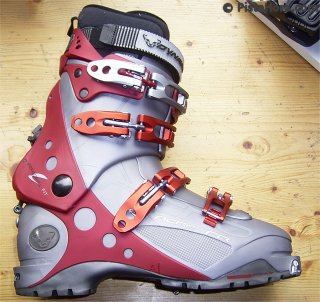 Dynafit Aero FR
The first thing that struck us about the new four buckle Aero FR is how much it resembles a Garmont Mega Ride G-Fit in both look and feel. Small wonder if rumours are correct and Dynafit poached the designer of the Mega Ride to work on this boot. The plastic is less plasticy and flappy compared to the Mega Ride but in terms of stiffness the two boots are similar with the Aero FR just taking the crown. To accommodate the four buckles the boot is a good height, again similar to the Mega Ride. The micro-adjustable alloy buckles are high quality and also resemble those on the Mega Ride.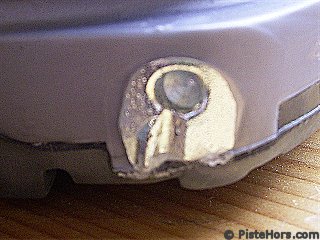 Dynafit Aero FR
The Aero FR adopts the Quick-Step-System introduced with last year's Aero TF. These are two guides in the Dynafit patented toe inserts that apparently cure the problem of engaging the toe piece. That's if you had a problem. The boot is noticeably heavy, it weighed in at 4100 grammes for a pair in size 27.0 (42) on our scale with thermoliners (the Dynafit Aero TF FR version) or a whopping 4550 grammes for standard inners. That's like, wow, 10 pounds in old money. The Aero FR is available in sizes 25.0 to 31.0 although are in short supply for the 2006 season, at least in the French Alps. Price is also somewhat on the steep side at € 459.00.

Dynafit Aero FR Sole
The boot is a medium fit but was fairly tight around the instep on our standard model foot with quite a bit of room in the toe box. The thermo-liner is good quality with a velcro elastic strap to close the tongue, this was a bit fiddly. The Powerstrap fits over the boot tongue as it should. There is the usual rubber sole and ski/walk adjustment knob. Overall the Aero FR feels like a quality boot but the weight will be an issue for some on longer tours.
Manufacturer: Dynafit
<< Dynafit Aero TF | Touring Boots | Garmont Mega Ride G-Fit >>
---