Slab Avalanche Mechanics
A couple of points have come up in the avalanche incidents we have reported this winter. For example, why nothing happens when all conditions seemed to be satisfied for an avalanche and why does a slope suddenly slide that has already been skied by a dozen or more skiers? Researchers François Louchet and Alain Duclos gave some answers to these questions in a paper published in The Avalanche Review this winter. The article suggests a four stage release mechanism and has met with a lot of interest from avalanche professionals.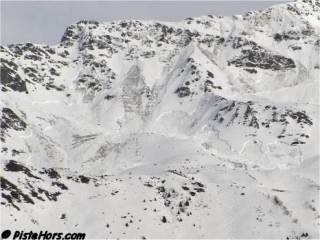 Snow slabs
Alain Duclos has been very interested in how human factors play a role in avalanche accidents. One effect he noted this winter was where experienced backcountry travelers ski a slope that their training tells them is liable to slide. It is maybe a north facing slope on a high risk winter day after a major storm cycle. 99 times out of a 100 the slope does not move. The skier begins to wonder if all the theory he has learned is correct. The Internet is playing an increasingly important factor in this feedback loop. When half a dozen extreme routes are skied without incident the day after heavy snowfall it appears these skiers have some kind inside track on avoiding avalanches. Making good route choices is a matter of skill and judgment but undoubtedly a proportion of skiers are just lucky.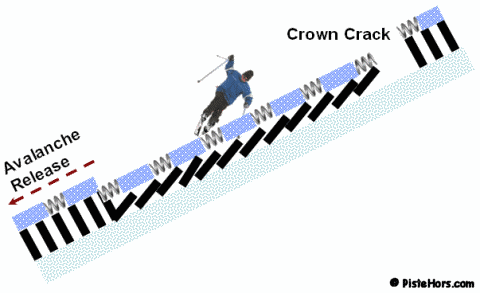 Slab avalanche release
It is also hard to understand how a skier, weighing just 80kg, can cause a snow slab of some thousands of tones to break away and slide down a slope. Duclos and Louchet compare the slope to a sheet of paper. In itself it is pretty hard to pull apart but make a small rip, equivalent to a weak snow layer and it becomes much, much easier. What their paper suggests is that the skier causes a weak layer under the snow slab to collapse. The weak layer may then either extend under the skier's path like our paper tearing or expand under the weight of the snow slab itself. The damaged area may spread out to some vertical weakness in the slab, perhaps around rocks or a tree, and this can then lead to a crown fracture. At some point the weight of the slab exceeds the remaining bonds holding it to the slope and the whole thing avalanches.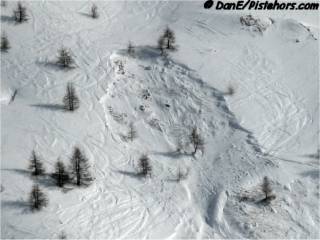 Avalanche on tracked slope
Of course the skier may just cause some local collapse, perhaps hearing nothing more than a loud whumphing sound as he traverses the slab. The slope holds until enough damage is done by subsequent passages to overcome the bonds. The proverbial straw that breaks the camel's back. Slab avalanches are involved in around three quarter of all avalanche incidents and are for the most part skier triggered so a greater understanding of the factors in slab release is important for backcountry travellers.
Futher Information
Slab Avalanches
Insight into Slab-Avalanche Triggering. A combination of four phenomena in Series. François Louchet and Alain Duclos. The Avalanche Review. Vol 24 no 3, Febrary 2006
Posted by
davidof
on Thursday, 06 April, 2006 at 05:03 PM
Comments are now closed