Some interesting points. I wonder if the French debt collection agency could sue in a French court then get this order enforced in the UK? It might be that a French court might take the view that French probate rules apply. Having been sued over late payment of council tax (a mistake) I know these kind of cases can take on a life of their own and it can be very hard to rectify mistakes.
I also wondered about the how foreseable the risk was. On the day of the incident we had toured a west facing route but only to 2300 meters and there was no evidence of avalanche risk on that route. However there was still considerable fresh snow on north faces.
PisteHors had this to say about conditions in the week prior to the avalanche:
The heaviest snow will be on Satuday but unsettled conditions will continue into next week. The fresh snow will be accompanied by a strong but moderating south-east wind, this will shift to the east later. The strong gusty winds will transport snow and will lead to the formation of fresh slabs.
The bottom line is: take care on steeper slopes during and immediately after the new snow fall and give large accumulations of snow time to purge or stabilize. Be aware of more persistent risks at higher altitude close to ridges, cols and summits. With the strong southerly winds you can expect the greatest danger of slabs to be on shaded and sheltered northern slopes
Snow and Avalanche Report: Week 15-2005
With a 30cm of fresh snow, strong winds and a specific warning in the local avalanche bulletin a large steep open north face at high altitude does not sound like the ideal place to be. The fact that both boarders were skiing this slope together and one of the men also had his avalanche beacon in his jacket pocket (the avalanche was so large it would not have helped save him but would have made body recovery easier) rather than worn around his body puts some question marks over their experience in these conditions.
Posted by
davidof
on Monday, 21 August, 2006 at 05:41 PM
there is no reason why the French debt collection agency might not issue the proceedings in France. That would certainly make life difficult for the family of the two boys who would need to instruct French lawyers etc. It would be up to the English families to prove that English probate rules should apply, not French rules. Only final judgments can be enforced abroad i.e. when the time limit for appealing has expired and no appeal is pending any longer. Enforcement is allowed by what used to be known as the Civil Jurisdiction and Judgments Act of 1982. Once a French judgment is deemed enforceable by an English judgment, it is indeed difficult, though not totally impossible, to get it set aside.
Posted by on Friday, 25 August, 2006 at 06:03 PM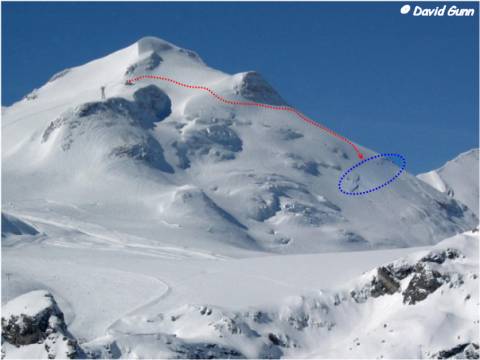 This is a picture of the North Face of the Mott where the two lads were buried showing the crown wall. You can see the crown wall on the lower right corner (blue circle). Pretty big avlx but there had been a lot of late snow high up and they had been warned by a pisteur. I skied the glacier next day and the off piste was very good - but some areas felt iffy even though the profiles were ok. For late April it was still some of the best of the season.
Sad loss. £20k is lot of money to find and it must be hard for the families.
Posted by
David Gunn
on Saturday, 26 August, 2006 at 05:17 PM