SAM 2008
The Mountain Equipment Mondial returned to Palexpo in Grenoble last week and the emphasis was firmly on sustainable development, a subject close to our hearts. However, sustainable, for alpine skiing, doesn't necessarily mean environmentally friendly.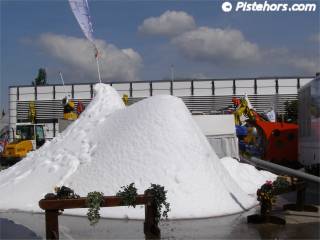 20C and real snow!

Val Thorens has recently achieved the coveted ISO 14001 status and one of the factors was terra-forming work which reduces the amount of snow cover needed to ski in the high mountains. In the summer this work is visually intrusive although this doesn't seem to bother the mountain bikers that can be seen whizzing down the slopes. The only conclusion is that this kind of "murban" environment, a kind of home from home, does not bother visitors that much.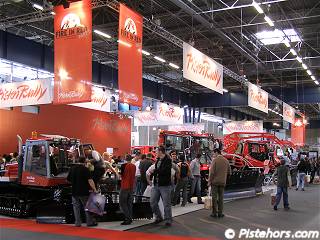 Piste bashers
Anyway let's make a quick tour of the SAM to see what caught our eye. Pomagalski were promoting a new kind of funicular railway their Italian division has installed in Livorno and Catanzaro. Both railways capture energy produced by the carriers on the downhill journey. A world first in environmentally efficient cableways claim Poma. The electricity is used to charge batteries for backup engines and when starting. The Voreppe based lift builder might also be interested in the funicular in Linton in Devon. Built by those clever Victorians the lift is powered by water (large tanks in the cars compensate for the weight of passengers to be lifted).
Leitner were demoing their Leitwind system. The idea is obvious, mountaintops are frequently windy places. However disfiguring peaks and ridges with wind turbines would not go down too well with environmental groups. It would also be inefficient to run cabling down to valley towns. Ski resorts are not exactly the most attractive of spots with snow cannons, lifts, buildings and overhead cables. So why not install a few wind turbines to offset the large electricity consumption of lifts and snow making, not forgetting the resort heating and lighting? Electricity can also be stored by pumping water into mountain reservoirs for use when demand is high. Leitner have used their skills in building cablecars to design a lightweight three blade wind turbine using a simple and robust gearless generator. The first prototype was installed in the Sud-Tyrol in 2003. The improved LTW 77 prototype delivered 3,000,000 KWh of electricity in its first year of trials. The light weight and low maintenance design make it particularly suitable for hard to reach mountain sites.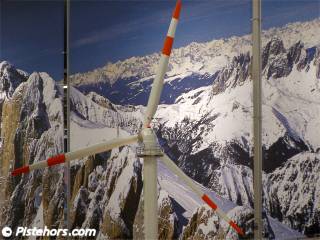 Leitwind
Some more mundane products can have a big environmental impact. A lot of chemicals are used in ski resorts. Last spring we noticed the diesel tank of a piste basher leaking into a stream that feeds local villages with water in les Sybelles. York BIO are supplying resorts with biodegradable synthetic low-temperature lubricants for piste bashers, ski lifts and other mechanical equipment.
Snowmaking has become a key part in the success of ski areas. The extremely poor 2006-2007 season avoided the disaster of 1989-1990 thanks to the extension of artificial snow. It is not just low lying ski areas that are resorting to "faking it". Val Thorens, where the ski area is situated above 2000 meters, now has 40% of its runs served by artificial snow. Even the SAM had snowmaking. Wyss were demonstrating an "all temperature" snowmaking system. They have a contract to make snow for a run in the Marina Mall in Abu Dhabi where the air temperature is +15C. Their mobile snowmaker (which fits in the back of a truck) can make 70 cubic meters of snow per day. Wyss say's their aim is to "reduce global energy consumption". With snowmaking in France now burning more electricity than ski lifts they will need a lot of Leitwind's to achieve this.
Mid-mountain resorts have been warned that global warming will make snowmaking a short term fix. However they seem to have come up with the answer. Install more and higher altitude snowmaking. The idea is to make as much snow as possible on the days when temperatures are cold enough. Snow made at higher altitudes can then be moved around the resort. Typical is Les 7 Laux resort close to Grenoble. They have just announced plans for a major increase in snowmaking. A snowmaker like the SMI Super Polecat which blows snow from 30 nozzles using an 18KW/h fan and 7.5KW/h compressor. It consumes up to 9 liters of water per second – blowing over 50 cubic meters of snow per hour. Resorts are also looking at artificial slopes to cover high wear areas such as around ski lifts. Nevaplast were demonstrating their patented material which they claim has the same slide properties as real snow.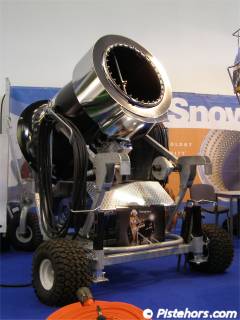 Super Polecat snow maker
The SAM president Bernard Volk has said the future for ski resorts is durable development. However they are still hooked on downhill skiing as the main product and the infrastructure, terrain modeling and snowmaking this requires to operate profitably in the 21st Century Alps. Realistically it would be impossible to change this model overnight but we still wonder whether the environment is simply a marketing meme rather than a real commitment.
Further Information
http://www.neveplast.it/eng/products.html
http://www.snowmakers.com/products/polecats.html
http://www.leitwind.com/
http://www.wyss-snowsystem.com/
http://www.sam-grenoble.com
http://pistehors.com/news/ski/comments/summer-of-sam/
Posted by
davidof
on Thursday, 01 May, 2008 at 08:07 PM
Comments are now closed