Introduction > Press Information
PisteHors.com grew out of a page about the la Grave ski area which went online in February 1998. We moved to our new permanent home at http://PisteHors.com at the start of 2002. The graph below shows the number of page impressions per month (note: not hits) since then.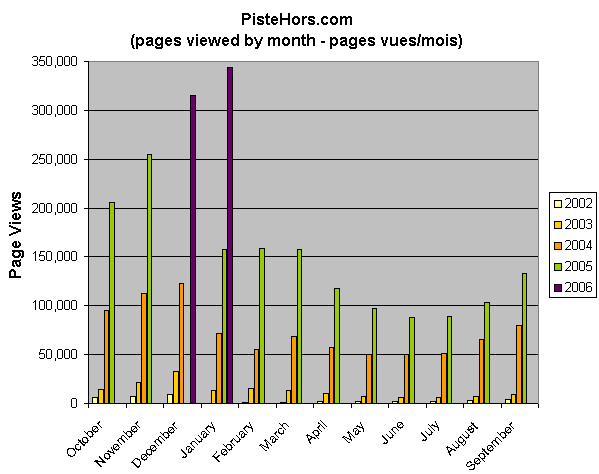 In the year 1st September 2004 to 31st August 2005 we had well over a million page views; we reached the same figure during the first four months of the 2005-6 season.
We are also one of the top listed off-piste ski sites on Google.
What the Press is Saying about
PisteHors

:
Pistehors.com, the best website for really experienced skiers - The Guardian, Oct 2004

PisteHors

.com... is a very useful site - Montagnes Magazine, Nov 2004
Pistehors.com is well worth visiting - Daily Mail Ski and Snowboard Magazine October 2003
Pistehors.com is a respected web site that specialises in off piste information - BBC News 3rd March 2006
Pistehors.com, the web's leading authority on off-piste skiing and riding - Mark Frary, The Times ski correspondent, March 09, 2006
Copyright notice
The right of the authors of the works in PisteHors.com has been asserted in accordance with the Copyright, Design and Patents act. Permission is granted for short quotations or the use of figures, images and tables for educational or scientific purposes.
Please contact us for all other use.
All rights reserved.
Reproduction
Please contact us if you wish to reproduce any of our articles in your magazine. We can also supply large format digital photography for many of the articles.
Advertising
Please contact us if you wish to advertise on this site.
<< | Introduction | Copyright >>