Gear > Backcountry Snowboarding > Approach Skis
Approach skis or mini skis are short skis that are fitted with a special binding and are fitted with climbing skins. They are used to climb to off-piste routes over difficult snow conditions and can generally be used on steeper terrain than snowshoes. This enables the rider to check out the snow conditions and any obstacles on route to be boarded while climbing. When climbing the binding pivots at the toe with the heel left free. Climbing skins are attached to base of the ski, when the ski is moved forward they glide over the snow, but the tiny hairs on their base prevent the ski from sliding backwards.
Ascent skis offer the advantage of more rapid movement than snowshoes, especially on relatively flat or gently sloped terrain or when following in the tracks of ski mountaineers, yet they are still short enough to be stowed easily on or in the pack during descents.
The Kong Grimper
The Grimper was introduced in 2000. It is a short, around a meter in length, but wide ski providing good floatation in deep snow conditions. It weights 3100 grams. The binding adapts to hard boots and is supplied with some light alloy crampons for hard snow and ice conditions and climbing skins. Cost is around 250 €.

Kong Grimper
K2 Approach Skis
K2 have tackled the problem of getting to the backcountry with their approach ski system. These skis are 108 cm, weigh 2500 grams and come with climbing skins. There are two bindings which adapt to hard and soft boots with clicker bindings. Cost is around 400 € with skins.
K2 also supplies a lightweight climbing crampon that adapts to clicker bindings.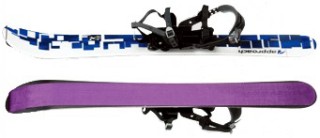 K2 Approach Skis
Rossignol Free-Trek Venture
The Rossignol Free-Trek Venture is aimed squarely as a snow shoe replacement but can also be used by boarders to access backcountry descents. The ski is quite small, just 99cm, which make cause some floatation problems for heavier riders in deep powder. Cost is 285 € with climbing skins. Crampons are available as an extra. A soft-boot binding is also available.

Freetrek Venture
Zig-Zag and Climb Systems
German soldiers sent to the Russian front at Stalingrad would carry a pair collapsible wooden telemark skis in their knapsacks. These hinged mid way, a soldier had to snap the two parts into place and flip a lock and clip them to his boots and he could travel across the deep powder snow found on the Russian steppe.
The Zig-Zag and the Climb approach skis are descendants of this idea. The Zig-Zag ski is 1m30 long and weighs 3.1kg with step in (4x4 system) bindings. It is also available with strap on touring bindings. Skins and harscheisen are available. Cost is 535 €.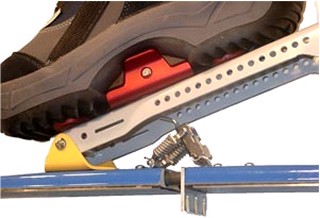 Zig-zag binding
Climb is a 120cm reinforced fiberglass/aluminum ski weighing 3.2 kg. The Climb adapts to all types of soft boot and the binding can be removed and used as a regular crampon for climbing steeper slopes. These skis offer two main advantages. Split in two they are small enough to be stowed away backpacks which makes riding much easier and they enable boarders to follow in the tracks of ski tourers when climbing. The Climb ski costs about 400 € with climbing skins and crampons.
Sastrugi Ski Binding
The Sastrugi ski binding can be used to adapt any ski to off-piste use for approach climbs. Its chief advantage is that is fits any type of boot, including soft boots. Although the binding is not suitable for skiing it is ideal to get you to the top of the climb. It tips the scale at just over 1 kg and cost is around 150 €.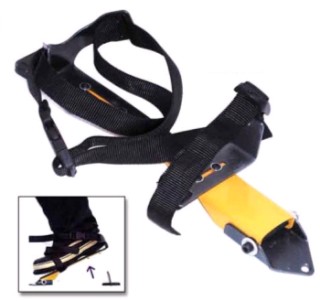 Sastrugi Ski Binding
<< Snowshoes | Backcountry Snowboarding | Split Board >>
---