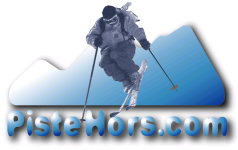 Posted on: 2019-04-25 21:27:22 by davidof
Ski tourer killed by avalanche on the Pointe des Audras, Savoie
A female ski tourer has been killed by an avalanche on the Pointe des Audras above Bessans in the Haute-Maurienne. The area has been subject to very high winds from the south and poor weather. The slab avalanche occurred at 3200 meters and was some 50 cm deep. The victim was buried under 3 meters of snow. Recovered by other members of her group, including a high mountain guide, she later died of her injuries.
The group were climbing to the summit at the time of the avalanche. They had decided to stop below the summit due to doubts about the stability of the snow. The slide happened as they were preparing to ski down. The avalanche risk was 3/5 (Considerable) in the sector with windblown fresh snow. The avalanche bulletin had warned of both skier triggered spring snow slides and slabs at altitude.
The victim has been named as 36 year old Audrey Mérand who worked for Scott. Well known in the Rhônes-Alpes and beyond, she was frequently present on the Scott stand at exhibitions. Resident of Aix-les-Bains she was also an accomplished sportswomen, second last summer on the Osians Trail Tour (72km/4000 meters of climbing) and the Revard. The trail community has been hit hard after the death of Juliette Bénédicto in February this year in a mountain incident.

Location
Comments