Winter of Discontent
As I sit writing this in a WiFi equipped café in downtown Clermont Ferrand in the Massif Central the thermometer on the terrace flirts with the 20C mark. I order another coke, women walk by in light clothes, birds are singing. A glorius, early summer's day.

Hang on a minute? Last week it was –10C and we were shovelling cars out of the snow. It was deep midwinter. Cold and grey, snow was falling. Wild swings in temperature seem to have been the norm this season. We were skiing on the 6th of October and mountain biking in T-shirts across same fields; now green, a fortnight later. At the start of November we were at Les Deux Alpes for the Mondial du Ski. Rain and green as far as the glacier, we went to bed only to wake up in a winter wonderland. Transformed overnight by 50cm of snow.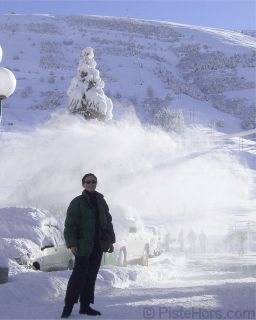 Winter Wonderland, 1 November 2003
By the end of November things were looking pretty desperate again. Then salvation, a winter storm blew in, only to vanish under a searing fohn wind that blew remorselessly for a week. The start of the Christmas holidays were grim. We had to go as high as the Pic du Midi in the Pyrénées to find reasonable snow-depths, but once again we were saved by the weather.

Chamrousse on Christmas day
What will the weather be like next week? Who knows? Not the meteological service it would seem although lets hope their prediction of a 15C fall in temperatures is right. After the hottest summer on record in France is this all a portent of things to come? While it is important not to confuse weather with climate, the short and the long term, it is hard not to be worried. A new report by the Cemagref says that the glacier at Grands Montets is losing mass at an alarming rate. Situated on a steep slope which speeds its flow and with a small accumulation zone to gather increasingly rare fresh snow, it is perhaps badly placed. But the glaciologues say that the Sarenne at l'Alpe d'Huez and all the glaciers in the Pyrénées will be gone within 50 years. Whether this is a purely natural flux in the climate or something caused by man made pollution is still a topic for fierce debate.
Special Report on Global Warming and Skiing

Posted by
davidof
on Tuesday, 03 February, 2004 at 03:02 PM
Comments are now closed