Tight Enough, Sir?
We've already covered the French government ski and snowboard accident prevention campaign but with the main winter holiday period getting underway the INPES (L'Institut national de prévention et d'éducation pour la santé) have launched: "Just Tight Enough" (Juste assez serré) concentrating on ski bindings.
Each year there are around 150,000 injuries amongst winter sports enthusiasts in France but the nature of injuries has changed radically over the years. In the 1970s, leg fractures were the norm. With modern bindings, carving skis and plastic ski boots energy from falls is transmitted up the leg and it is the knee that is at greatest risk.
For the last six years the group: Mountain Doctors ([I]Médecins de Montagne[/I]) has been investigating ski accidents and thinks badly adjusted bindings are the a prime suspect in knee injuries. A third of the ski injuries involve the knee area and amongst those some 16,000 are the most severe: an injury to the Anterior Cruciate Ligament or ACL. ACL damage often requires reconstructive surgery. Statistically women are 3.5 times more likely to injure their ACL than men and the statistics showed no difference between beginners and experienced skiers.
In total it is estimated that 50% of knee strains are due to badly set bindings. Despite improvements, bindings still cannot release in all directions and backward falls are a particular problem. A loose binding can be as dangerous as a tight binding as it can release too easily, say when the skier is travelling normally but at speed, carving turns or in mogul fields. The author suffered a broken wrist when a badly adjusted binding released. The result was many weeks in hospital and two operations.
As part of the campaign people are encouraged to get their bindings checked. Half a million vouchers are being distributed at motorway tollbooths and in tourist offices for use in participating ski shops. Some ski shops will also adjust bindings ([I]réglage des fixations gratuit) as a public service. Ask in resort. Following new guidelines technicians should take account of age, ###, weight and ski ability, make sure you don't overestimate this last point. Finally ensure you are ski fit by cycling or running during the off-season to build up the supporting muscles around the knee.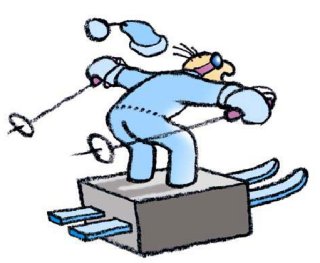 For off-piste skiers the dangers are greater. Although skiing powder should present little more resistance than on piste the forces, and the consequences far from pistes can be much greater when things do go wrong. Those venturing further into the backcountry, such as touring skiers and boarders, should adopt a much more conservative approach and ski well within their abilities. Hidden ice, perhaps from avalanche debris can be a danger when riding off-piste powder at speed. Equipment, especially randonée bindings should be adjusted and inspected for wear and cracks. A broken toe piece, miles from civilisation can turn a pleasant day out into an epic.
Of the major ski touring bindings the Fritschi series 1 are known to have problems with breakages of the link bar. All the Fritschi Diamirs have suffered from broken toe-pieces and this is a useful spare to carry. The toe piece main bolt should also be checked as this can loosen after a few days touring. Plumber's PTFE tape or thread-lock can keep it from moving. The Dynafits and Silvrettas are reputed to be pretty tough but don't have the same release safety as an alpine binding. Dynafit users should pay particular attention to their special ski boots. The Naxo and Silvretta Pure are too new to have shown any particular weaknesses but ski mountaineers should avoid hucking big air off cliffs on touring bindings.
For boarders the risks are more likely to be head and wrist injuries. Helmets and wrist protection can go a long way to mitigating injuries in the event of a fall or collision. Even skiers can be at risk. There was a fatal collision on a piste of the family resort of Chamazel in January 2004.
Link to INPES Cinema Advert 763Kb

Posted by
davidof
on Thursday, 05 February, 2004 at 10:43 AM
Comments are now closed