PisteHors in the press
It has been a very busy year for us at PisteHors.com. "Avalanche deaths hit new record" – BBC, "Ski slopes' hidden perils take record toll" – The Guardian, "Skiers dicing with death off piste" - The Times, "Alps see climb in avalanche fatalities" - USA Today, were just some of the headlines in the British Press. Questions and comment from journalists from as far afield as North America, Sweden and Australia kept us occupied just as the poor March weather in the Northern Alps served to keep us indoors for much of the month.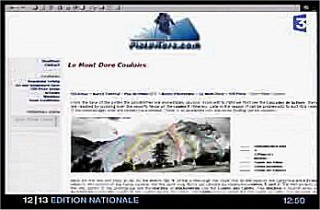 PisteHors features on France's main news bulletin
During the 6 months from November to April PisteHors also served over 2 million pages to half a million visitors. Many came to find out about a particular story – a ski accident or an equipment review, others more regular visitors.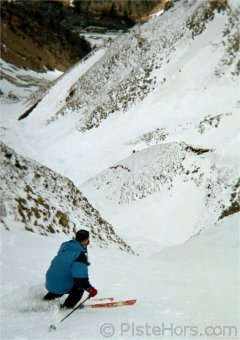 Amongst all this press attention France's national TV station (France 3) recently covered PisteHors.com on its main news broadcast. Happily it did not concern the latest incident in the mountains but was part of a report on couloir skiing in Le Mont Dore. There has been a great deal of media interest in this tiny resort in the Massif Central since we commented in 2002 that it offers some of the most accessible couloir skiing in France. The respected Montagnes and Skieur magazines as well as other journals have followed in our ski tracks to discover the delights that this 250,000 year old extinct stratovolcano has to offer.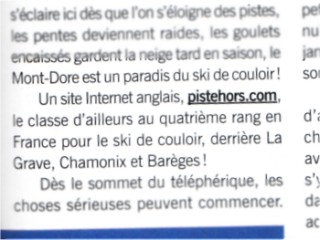 Posted by
davidof
on Saturday, 06 May, 2006 at 12:45 PM
Comments are now closed