Crap Shoot for Andorran Ski Mountaineers
Andorra would no doubt prefer the press to focus on its Grandvalira domain linking the ski areas of le Pas-de-la-Casa, Grau Roig, Soldeu, El Tarter and Canillo, its luxury hotels and its ultramodern high-speed chair lifts but the Shanghai of the Pyrenees shares another problem with the oriental boom-town, serious water degradation. Or rather in Andorra's case it shares its problem with its neighbours France and Spain much to their annoyance.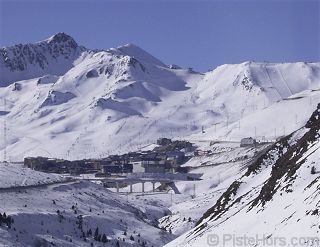 Pas-de-la-Casa and the Ariège below
On Thursday we looked at the problems the Savoie is having with a dryer climate and how water management will be one of the major challenges facing mountain areas in the 21st century. In the Pyrenees ski tourers have been kicking up a stink about the state of the Ariège river which flows from Pas de la Case into France claiming it is little better than a "malodorous open sewer". Are there any other types we wonder?
The problem is well known to the authorities. An ultra modern treatment works has been built in the self styled Land of Princes. The only problem is that only around half of residences in Pas de la Case are connected. With the population of the resort growing five fold in the ski season from its normal level of 2,300 the problem is obvious. In the same way water supplies prefer a constant flow sewage treatment works prefer a constant supply rather than peaks and troughs. The residents of St Bon in the Savoie have the same problems in the French school holidays with sewage from Courchevel higher up the mountain.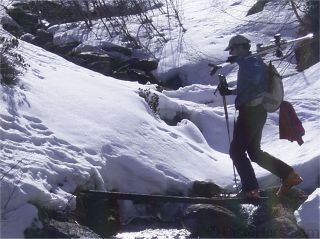 A ski tourer takes his chance on a rickety footbridge
Somewhat more bizarrely the river below the level of l'Hospitalet is almost completely clean. In fact around 90% of the water from the Ariège is diverted by a subterranean canal that passes close to the tunnel of Puymorens and flows into the Rio Segre in Spain. Named after its developer the Canal Verdier was built to compensate Spain for lost water under international treaties after the French State Electricity generator (EDF) used water from the river Carol to feed the lac du Lanous. The problem of Andorra's sewage now involves Spain. The French authorities have been bringing sewage treatment in the area up to EU standards, notably at Bolquère, Estavar, Vallée du Carol. Andorra is not part of the European Union so is not subject to the same regulations.

Posted by on Monday, 27 March, 2006 at 12:13 PM
Comments are now closed