Heatwave hits ski resorts
The end is nigh it would seem, at least for some ski resorts. With temperatures hitting 25C over the weekend in the Alps and swimmers testing the waters of the Mediterranean many low lying ski resorts are already thinking of shutting up shop for the season. In the Isère department Méaudre, Le Sappey, Saint Pierre de Chartreuse, le Col de Marcieu and St Hilaire have already closed with the Collet d'Allevard likely to follow shortly.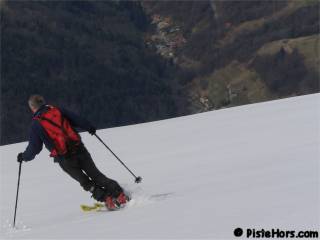 Best skiing on upper slopes
Saint Pierre blames the lack of snow canons on the village runs for their premature closure but at 1800 meters, a full 900 meters higher than the village, temperatures have not dipped below freezing for a week. Snow canons need temperatures of at least -2C to operate.
In the Pyrenees, Guzet, Payolle, Hautacam, Val-d'Azun, Val-Louron, Gavarnie and the Pont-d'Espagne are already closed with Peyragudes to follow this week. In the southern Alps Val d'Allos - le Seignus has shut, apparently to the annoyance of local businessmen but la Foux a few km up the valley is still open. Le Seignus had planned to close at the end of March way back in the autumn. Metabief in the Jura will stay partially open another week thanks to excellent snow conditions this winter. In the Massif-Central Chalmazel closed on Sunday as did Bernex in the Savoie despite lots of snow remaining on the slopes.
Although some resorts no longer have enough snow to operate another reason behind early closures is lack of interest from clients. The number of French visitors has been in decline for the last two decades. Bigger resorts have compensated with foreign visitors. In Val Thorens the end of season is very popular with the Dutch. After the main winter holidays in February many resorts simply decide that it is not cost effective to open and lay-off all but a skeleton summer staff. It is reminder that summer is not far away. If you are still looking to ski over easter then resorts from as far afield at Piau-Engaly in the Pyrenees to Les Arcs in the Savoie will all be open until the end of April with Tignes, Val Thorens and Chamonix running into the first week of May. With fresh snow expected down to 1200 meters this week the spring ski touring season is also just getting under way and will last right through until the end of June.

Posted by
davidof
on Monday, 27 March, 2006 at 10:11 PM
Comments are now closed