Corsica : First Snow
While the French Alps wait for their first snows of the winter (skiing on the opening day at Val Thorens was on artificial snow) Corsica, the Island of Beauty was hit by a snow storm on its western coast that brought chaos to roads. The authorities even had to close the road passes of Vizzavona, Verde and Verghio to heavy goods vehicles. With snow falling down to 300 meters it should be good news for the island's enthusiastic skiers but the ski areas are in crisis.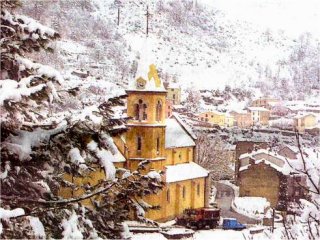 Haut-Asco has long since closed its doors, despite an FIS standard downhill piste. Today trees grow on the runs and the lifts lie forlorn and rusting. Now the island's three remaining areas are threatened.
The main lift at Val d'Ese is still closed and Ghisoni no longer has permission to operate the Pietra Niella lift. Vergio, the oldest of the Corsican ski resorts was started in the early 1960s by Jeannot Luciani who still runs this private domain. The station was only electrified in 1997. However the future is uncertain with the imminent retirement of M. Luciani.
That leaves ski touring. The Corsican Haute Route (alta strada) is a legendary 11 day odyssey for backcountry skiers and there remains the possibility of day tours to many of the islands summits. The climate of this Mediterranean gem is not to be underestimated, backcountry travellers have been caught out by sudden changes in the weather even during the high summer. Eric Delaperrière's new book (in French) on ski touring has a whole chapter entitled "Be curious, beyond the guide books" devoted Mont Cinto, Corsica's highest mountain.
Ski de randonnées, des premières traces aux grands raids.
Posted by
davidof
on Friday, 25 November, 2005 at 12:51 AM
Comments are now closed