La Plagne – Bellecôte; Exteme Construction
Night falls early in the mountains in November. Floodlights splutter into life casting a eerie glow over the site. With the recent fresh snow it could be at an Artic base. In fact it is 3050 meters altitude on the Bellecôte glacier above the ski resort of la Plagne. Possibly the most extreme building site in Europe.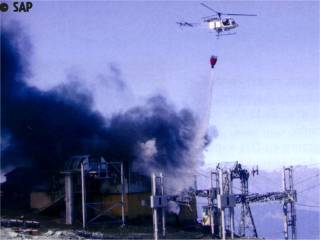 This incredible project started life on the 5th of August, 2005. A shepherd tending his flock spotted smoke coming from the Bellecôte cable car station. Not the easiest place for the fire brigade to reach and inspite of a major operation, including a helicopter the station was totally destroyed and the cable melted sending five cabins crashing to earth totally destroying one. A pylon and two cable arms were also wrecked. It seemed like the Bellecôte glacier and the backcountry skiing beyond would be unusable this winter for France's premier ski resort.
That same day experts from ski lift constructor Pomagalski accompanied by the SAP (société d'aménagement de la Plagne) as well as a team of consultants were assessing the damage. The site was rapidly cleared and a base camp, consisting of 8 "bungalows" weighing 3.5 tonnes each, established. 30 workers had to be found, no ordinary men, they needed to be certified to work in extreme conditions and not constrained to a 35 hour working week.
Static crackles over the radio. Time to finish work. A day that started before dawn with a strong cup of coffee and croissants. Each bungalow is equipped with an oven, freezer with supplied for a week, a dish washer not to mention hot showers and heated toilets as well as satellite TV and DVD. Lights out is at 9pm. Almost a home from home. It needs to be the men live here 24/7 isolated from the world. The bungalows are huddled together and bolted to the rock against the strong winds.
Men work up to 25 meters above ground wrapped in double layered Gore-Tex jackets, thick gloves and insulated hard-hats. Far from ideal conditions. Material has been designed for winds up to 175km/h and a temperature range of -30C to 40C. Until mid-November the site benefited from one of the mildest autumns on record but the month looks as if it will finish with an equally impressive cold spell and heavy snow. Concrete foundations were poured at the end of September, before the arrival of sub-zero temperatures. Each load made at la Plagne and brought up on a 19km dirt road to the glacier. A precarious 1 hour drive by 4x4, even longer in a heavily laden truck. The roof should go on this coming Friday, leaving 20 days to fit the walls of the building. Equipment for required for construction will be left on site all winter to be brought down at the end of the ski season.

The new 6km cable was delivered in October by TrefilEurope, just 2 months after the order was placed. The cable car station, designed by Pomagalski, has been built by Comag with the structure fabricated by Mouton, specialists in high-altitude buildings.
The fire has been a wake up call for La Plagne and other ski resorts. Who would have thought that a building largely made of steel could be consumed so quickly by fire? Everything has been checked over – electrical installations, flammable material, fuel storage, in order to avoid a repeat of the disaster.
The rebuilding will cost over 4 million Euros and, despite some delays, should reopen for Christmas 2005.

Posted by on Thursday, 24 November, 2005 at 01:54 AM
Comments are now closed