Alive
The four snowboarders, missing since Monday near to Aime in the Beaufortain mountains were found alive at 15h40 this afternoon. They had set out on snow shoes to climb Mont Rosset on Monday but were caught by bad weather.
They decided to descend but set off a large slab avalanche so found refuge at 2,150 meters in the gap between a nearby rock outcrop and the snow. They hollowed this out to form a snow cave in order to wait for rescue. A helicopter pilot spotted them this afternoon. Two helicopters were sent to the refuge du Mont Rosset.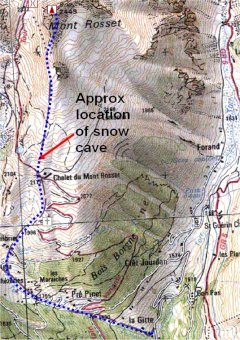 Mont Rosset
The four young men were said to be suffering from hypothermia and in a state of exhaustion but were able to walk with assistance from the helicopter to a waiting ambulance. Tonight they are in hospital in Bourg-St-Maurice and said to be in a good state considering their three nights in the open. None of the boarders had a portable phone. Pascal Lozach, a rescuer with the PGHM (mountain police) said that searchers had passed not more than 50 meters from the spot yesterday without finding anything.
Some people are already drawing parallels with the dramatic disappearance and rescue of two skiers in the Vanois region during the winter of 1999. The skiers caused outrage when they sold their story for 100,000 €. This has lead to a considerable tightening of the legislation surrounding the costs of search and rescue operations. But for now the rescue workers were just happy with a job well done.

Posted by
davidof
on Thursday, 06 February, 2003 at 11:01 PM
Comments are now closed