Missing Snowboarders Answer Critics
Sylvain Dhonneur, spokeman for the missing Mont Rosset boarders has answered some questions on the website Camp2Camp, here is the English translation.
The four skiers, rescued yesterday after going missing on Mont Rosset for 3 days are out of hospital. This afternoon Sylvain Dhonneur from Lescheraines in the Savoie), Martin Choux from Epagny in the Haute-Savoie, Olivier Montury, from Domérat in the Allier and Bastien Gervais, from Beaulieu in the Hérault gave the following account of their ordeal.
"We decided to build a snow cave after Sylvain and Martin were caught by a small avalanche in which Martin lost his snow shoes. We had la lot of luck"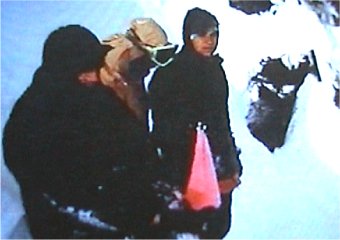 Waiting for rescue outside their snow cave
Sylvain, who'd already done the same route with his dad 2 years previously went on "There were wind gusts at midday which covered our tracks, it was a whiteout, we couldn't see anything we said to ourselves that we had to find shelter, we realised we had to build a shelter. As the snow was dangerous we built a shelter behind a rock, using 3 snowboards and a pair of skis along with a survival blanket for a roof. We used a pink sack on a ski stick which we waved when we heard helicopters passing, three times on Tuesday and twice on Thursday when we were spotted. We also peed around the snow cave to leave tracks, we tried to get the helicopters attention using the flash on my digital camera, but they didn't see us"
"We heard the helicopter, but it was looking for us too low down, in the avalanches debris, but we never gave up hope, we told jokes, but we couldn't sleep. When we were worried we didn't mention it so as not to worry the others. We were thirsty, we put snow in our drink bottles and melted with the heat of our bodies." Olivier continued.
"We ate in the evening to fight the cold of the night and one evening we had a meal of 5 almonds each. We only had biscuits and dried sausage left when we where rescued"

Climbing Mont Rosset in the snow
In a more light hearted mood when asked why they didn't respond to repeated calls to their mobile phones one of the men commented "Its hard to answer your phone when you've left it in the car, the batteries were flat anyway. After our night in hospital we are at least vaccinated for some time!"
Even though the avalanche risk was between 3 to 4 out of 5 when they set out Sylvain thought the route wasn't dangerous (locals had said as much during the search, as long as people stick to the normal route) and they had even crossed people descending.
Before finishing they thanked the rescue workers and said they were sorry for the worry they'd caused everyone following the drama. The Mayor of Cote d'Aime, the community where Mont Rosset is located, has announced that he intends to pass any bills associated with the rescue onto the snow boarders. The helicopter company, Secours Aérien Français (SAF) registered 2 hours of flying at 43 € a minute, including the mission to pick up the young men. Since a new Federal Law was voted in on the 27/02/2002 off-piste rescue costs can be passed on to survivors. This measure was recently adopted by Aime and other Savoie communities and a sign notifying mountaineers was installed at the car park where the boarders had left their car.
Posted by
davidof
on Friday, 07 February, 2003 at 07:37 PM
Comments are now closed