Luz Cauterets link
The Pyrenean ski resorts of Luz-Ardiden and Cauterets have completed a virtual link up for the 2006-7 season. Following a recent agreement the ski areas will be under joint management. The day to day operation will remain with each domain but it is hoped that the link will be the start of much closer cooperation between the ski areas which could result in a physical link.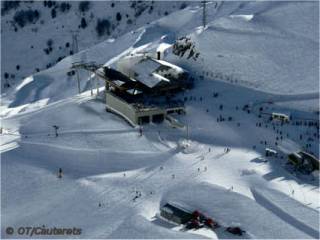 A project to link the two domains with ski lifts has been under consideration since 1985. The resorts have funded a number of studies over the summer. The favoured route is via the Col du Lisey which is already served by the Lisey chair on the Luz side. The north-west facing Lisey bowl holds its snow well and should not present any particular problems for the construction of ski slopes. At 935 meters the town of Cauterets is relatively low lying and may require an expensive cable car in order to complete the link.

Pyrenees ski resorts are worried about increasing competition, particularly from low cost destinations in Eastern Europe and this could finally give the necessary momentum to the project. The total ski area would be over 100km however previous studies have not hit the rocks on worries about the partition of skiers between the two domains. Cauterets was open for 142 days in 2006 with 313 thousand skier days. Luz had a relatively poor 2006, open for 137 days with 260,000 skier days, a drop of 8% on the previous winter.
The combined turnover will be over €9 million putting them into third place amongst Pyrenean ski resorts. This will give the area considerable benefits of scale as well as better marketing and political muscle. With a TGV station at Lourdes and nearby airports at Lourdes (Excel Airways), Pau (Ryanair) and Toulouse (EasyJet) the area has good communication links into Europe.
The Espace Cauterets has also been in the news following the trial of the previous director Olivier Musset, and the former mayor of Cauterets, Pierre Pacou. They have been accused of false accounting and favoritism with respect to the company used for publicity, Bleu Bayou. It is estimated that the sums involved are around 60,000 euros. However the trial has been rescheduled for the end of January 2007 when M.Musset's lawyer failed to turn up for a recent court hearing.

Posted by
davidof
on Thursday, 14 December, 2006 at 04:01 PM
Comments are now closed