This page is just a stub. You can help by expanding it.
Ski-Areas > Southern Alps > Vaucluse (84) > Ventoux > Mont-Serein
Contents
Description
The ski resort of Mont-Serein is situated in the Ventoux area of the Vaucluse department in the Southern Alps region. The lift served area extends from 1400 metres to 1800 metres. There are 12 km of lift served runs.
History
Add a history of the resort here
Off Piste Routes
In the Ski Tracks of Petrarch
Mont Ventoux, the very name conjures up images of the howling winds that bear down on anyone impudent enough to climb to its summit. Since Francesco Petrarch first described The Ascent of Mont Ventoux in the Middle Ages, the mountain has passed into myth. The climate is inhospitable, icy winds and snow can be found well into spring while down below fields of lavender dance under the Provencal sun. Summer is no more clement, was it not World Champion Cyclist, Tommy Simpson, who gasped his last words on the road to the summit? ''"Put me back on my bike"',' he implored a bystander. His body parched by the lunar landscape and remorseless sun.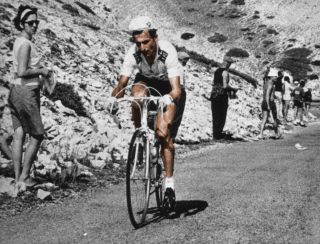 Tom Simpson, moments before falling on the Ventoux
In Plutarch's adventure we recognise many of our own worries and hopes for the journey. Finding suitable travelling companions, not too slow, not too imprudent. Would our trip be deemed a foolhardy undertaking by our friends? The desire to prove nay-sayers, particularly those older than ourselves, wrong. Petrarch approached the mountain from Malaucene to the north and described it as a very steep and almost inaccessible mass of stony soil. We found an acceptable amount of snow, over a meter where the land was sheltered from the incessant wind but scoured down to bare rocks and clumps of coarse grass elsewhere. A Scottish skier would feel at home in these conditions.
Regrettably we didn't have time to test the micro station of Mont Serein. We had loftier ambitions. There were long queues but the pistes were relatively empty, probably an effect of the slow drag lifts. The station was threatened with closure three years back and its future still remains in doubt.
We set out for the summit, with the hope of skiing some of the couloirs on the North face. Somewhat bemused, an elderly man inquired what we were doing on our strange skis with their touring bindings and mohair 'skins' fixed to the bases. Through the howling wind we only half grasped his intent, disguised by the local patois that more resembles Italian than French. We gathered that he'd walked here in the summer but believed us mad and thought it more sensible to use one of the ski lifts, unfortunately these stop a long way from our destination.
The climb was without major incident. My companion climbed more or less directly whereas I attempted what I thought an easier route, a series of zig-zags designed to take the sting out of the slope. In places all the loose snow had been blown away and I would slip backwards on the glass hard surface. Conversions were particularly problematic. These are a kind of dog-legged turns ski mountaineer have to perform on steep slopes. I eventually had to fix crampons to my ski bindings and struggled up to my friend, patiently sheltering behind a boulder. I wondered if it wouldn't have been easier to strap my skis to my rucksack and climb on foot. Picking the best route, like much in ski touring, is a matter of experience. I suspect that, as is often the case, experts actually expend less energy for greater reward than their more neophyte brethren.
We wanted to ski down over aptly named Pass of the Tempests (le Col des Tempêtes) but were greeted by a hurricane force wind driving us backward, carrying ice crystals, grit and small dogs! We couldn't even approach the couloir for a look. Instead we skied down the bowl under the Observatory over rock hard snow, we then traversed between two cliffs to join the couloir furthest to the right which was hopefully more sheltered. It was getting late and the sun was moving towards the horizon, somewhere between the Pyrenees and the Massif Central. To the north we could see hills and to the east the Southern Alps and Italy beyond.
Our route had a fair bit of snow, but this too was boiler plate with a few rocks sticking out here and there. It didn't look much more welcoming than the Tempests and certainly not a place to fall. The couloirs from the top of The Ventoux are quite steep, between 35-40?, and narrow in places. They lead down to a footpath (GR) at around 1450 meters altitude. From here we made our way back to the car, the snow running out just a little further below. We'd skied 400 meters of steep adrenaline pumping descent, all with a distinct Provencal accent.
Travel
Nearest Airport(s): Marseille, Nice Cote d'Azur, Avignon
Road:
Rail:
Accomodation
You can include a short description of any accomodation along with a link.
Restaurants and Bars
Tell readers about any good restaurants and bars in the resort
Shopping
We don't all ski 24/7, if there are shops: ski, fashion or bookstores you think people should know about mention them here.
Guides and Instructors
Only include guides and instructors who cater for off-piste or backcountry. Please specify whether they take snowboarders.
Useful Information
http://www.stationdumontserein.com/
Include any further information and links to the resort here
Respect copyright. Contributions must be your own work and not copied from other web pages or elsewhere.
Category: Ski Areas
<< Chalet Reynard | Vaucluse | >>