Ski-Areas > Southern Alps > Alpes Maritimes (06) > Mercantour > La Colmiane > Cime De La Valette De Prals
Follow the road to the Vallon de Prals. Roughly 1 km after le Vachere there is a bridge and a left hand hairpin. Immediately after crossing the bridge take the small path to the right that climbs through the woods.
As you exit the forest you will see a large bowl straight ahead. Carry on up the slope to the col du Baisse de Prals (2339m) then follow the ridge to the summit.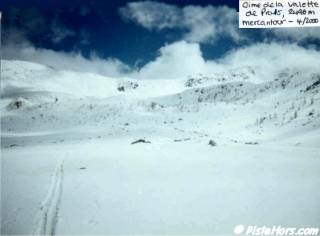 Cime de la Valette de Prals
You can link with the Cime du Pertus and the Tete de Cinant with a descent into the vallon de Moussilon (on the ridge you might want to rope up if you are not alone and crampons and an ice axe would be useful).
| | |
| --- | --- |
| Mountain Range | Mercantour |
| Summit | Cime de la Valette de Prals |
| Altitude | 2496m |
| Orientation | North-West |
| Starting Altitude | 1600m |
| Vertical | 896 meters |
| Maps | Didier-Richard Mercantour |
| GPS Waypoint | |
| GPS Route | Google-Earth: |
| Grade[1] | Danger: 1, Climb: F, Ski: 1.2 |
| Comments | The climb up the final ridge is a bit airy on either side for the very nervous |
| Snowboarders | Long flat section in the valley |
| Equipment | - |
| Road Access | Nice N202 > D2565 (St Martin Vésubie) -> D 94. Car park after the Vachere du Devansé depending on snow |
| Refuges | Refuge CAF de la madone de Fenestre. Guarded at weekends and holidays otherwise ask for keys at the bar de St Martin. |
| Guide Books | |
| Author | davidof |
Comments
Down in Antibes where we were staying the the weather was warm and sunny. After a morning swin we decided to head out to the mountains. A bit late and some cumulus was beginning to bubble up. The mountains did not look promising and the ski resort of la Colmiane had no snow left on the runs. However we ran into some fresh but humid snow on the road up the valley at around 1600 meters.
There was no view back towards the sea from the summit due to the ever present clouds and the late hour and visibility put us off trying the ridge route. The return was marked by missing the path and continuing down the right bank of the river. This lead into a series of small drop offs which were negotiated with some difficulty before we hit the road.
Contributed by davidof on the 15th April 2000
<< | La Colmiane | >>