Ski-Areas > Northern Alps > Savoie (73) > Tarentaise > Val d'Isère > Off Piste > Signal Bowl
At the end of the week we finally skied in Val d'Isère part of the Espace Killy. We took the Solaise chair to ski at the edge of the L piste. This run was closed due to the continued avalanche risk. Although the last snow had fallen on Sunday the low temperatures had meant that some slopes had still not fully stabilised. The avalanche bulletin had said that there was still a risk of encountering windslabs on North, East and West facing slopes. Between the L and the Mattis the slopes were pretty much skied. But nobody had touched a pleasant slope just to the left of the 'L' below the Solaise mountain. We rejoined the piste which was about 10cm deep in man made powder from the snow cannons. Quite fun to ski. Roger and Wendy's twin tip Salomon Pocket Rockets merit their name. The trailing tip created a huge vortex. On hard pistes a trailing ski was bombarded by a mini ice meteorite storm. By contrast the sugar snow churned out by the canons was churned into a huge circling tornado.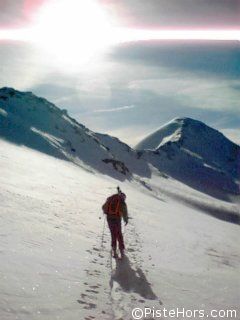 The Signal Bowl at Fornet
At the bottom of the L we picked up the Train Rouge to the Fornet. Up the cable car then onto the long signal drag lift. This lets you access two off pistes routes, L'Epaule and Vallon du Petit Signal. Both are good stretches to warm up on and provide some 500 meters of vertical back to the cable car top station. We wanted to gain height so rather than traversing across the lift to join these routes we continued across the signal bowl until we eventually found untracked snow for our powder fix. It should be remembered that this was now 6 days after the last big snowfall and we were within site of the pistes. Even in a station known for its freeriders and boarders it is amazing how little you have to travel to find untracked slopes, just over a hill or by traversing across a bowl.
<< Familiale | Val d'Isere | Pays Desert >>