Ski-Areas > Northern Alps > Savoie (73) > Tarentaise > Val d'Isère > Off Piste
Contents
Val d'Isère Backcountry
I was almost reluctant to write this section of the PisteHors guide. As someone who has been interested in off piste skiing for a number of years I know the reputation of l'Espace Killy. You only have to look at last season's avalanche reports to see that this resort, perhaps more than others, punishes any errors of judgement severely. There are already many excellent descriptions of the area, Dennis Summerbell, The Vamos Guide (Amazon-UK:2950367372) and the Chalet Chardons to give a few references. However for completeness I will give my thoughts on the area and described the routes I have skied both in this visit and my previous trip in 1998.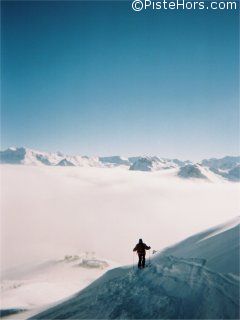 Why do Val d'Isère and Tignes have such fearsome reputations? To get an idea I spoke to a lot of experienced people while I was there, the guides at Alpine Experience, local avalanche expert Henry Schniewind, Andreas Björklund from Snow Fun, ski instructors Philippe Pushkin and Didier Laroche.
Firstly the ski domain is very large, over 300 km of ski runs in a number of different valleys and a great deal of off-piste. Val d'Isère itself is located in a steep valley. These slopes with their challenging skiing attract the hard core skiers, unfortunately it is exactly these steeper slopes that are most prone to avalanches. Over the years much of the safe, and to be honest with you, a great deal of unsafe terrain has been exploited. While the off piste possibilities are vaste they are often on some particularly suspect pitches. At the same time the resort attracts a young international, for the great anglo-saxon, population. Armed with the latest freeride skis and snowboards, charged up on Extreme Sports channel videos the whole mountain seems skiable, there are quite literally NO LIMITS for these riders. Perhaps in Val for one or two weeks, maybe for a season, they have neither the knowledge acquired through spending many seasons in the resort or the caution of many years backcountry skiing.
A case in point is the Manchet valley, within a few hours of snowfall both sides of the valley will be skied out. First the classic itineraries of the Tour du Charvet and Face du Charvet and the Banane?. Slowly the tracks extend across the mountainside like a spider spinning her web. Inexperienced snowboarders can be a particular problem, cutting large traverses across the slopes forcing other skiers further and further a field in their search for a fix of fresh powder. In the summer the Manchet is a green and pleasant valley, streams flow down both faces, despite the endless expanse of snow the slopes underneath are warmed by these hidden waters. As the web of tracks expands across the mountain a deadly trap is being loaded ready to spring. If the grassy slopes are not deep frozen by the November weather they remain a smooth surface on which the later snowpack rests. Freezing weather is no gauge of security either. The temperature gradient within the snowpack, between warm slopes and cold air leads to the formation of 'goblets' or depth hoar. These cup like crystals form a weak and almost frictionless zone hidden beneath the snow. As the slopes get skied out the full force of the afternoon sun hits both sides of the valley, the passage of a single skier can be enough to trigger a massive full depth avalanche.
So what is the recipe for skiing these resorts with some degree of safety? Well first off inform yourself before you go, read Wayne Watson's excellent book about the resort and the off piste skiing. Keep and eye on the weather conditions and avalanche reports on the area throughout the season. Speak to the piste patrol and other locals when you get to resort and finally, ski with a guide who has spent a number of seasons in Val d'Isère or Tignes.
Ski with a guide? Splutter.... surely this is the PisteHors team speaking, the guys who respect no boundaries? Well over the years a lot of people have recommended Alpine Experience. I was going to Val with just my girlfriend this time but would certainly have skied with these folks even if we were more numerous. For a very reasonable charge you spend five half days in small groups with one of their very experienced guides. It seems like a no brainer to me, if just from the point of view of improving off-piste ski technique. Alpine Experience offer lots of other possibilities from a single morning, to afternoon technique classes to day or even weeks ski touring. Well that's my pitch for skiing with a guide in Val d'Isere. While I'm talking about instructors, for general skiing, amongst many others there is Martin Mckay Skiing - on & off piste British ski coaching, SnowFun and the Ski-Lesson ski schools. For snowboarding, I would recommend Christope Segura (eMail: Segura.tof@wanadoo.fr) who represented France in the Nagano and Salt Lake City olympics and speaks excellent English.
The pages on this site will tell you about some of the off-piste that l'Espace Killy offers. We present these more to document where we have skied rather than to encourage you to do the same. Just because a certain pitch was judged safe on the day we skied doesn't mean it will be safe an hour, a day or even a season later. They say that the risk zero doesn't exist in the mountains but that is too simplistic for most people to work with. A slope is really mosaic of risk, towards the summit or col, depending on the weather conditions over the previous week's or season there may be windslab avalanches. Snow picked up by the wind and deposited in great depths on the sheltered lee-slopes. Lower down the slope may be convex stretching the snowpack towards breaking point, at the bottom hollows, gulleys and streams present traps where avalanche debris can pile up to huge depths. In between there are less risky zones but again the snowpack may keep secrets from earlier snowfall and weather patterns. Off piste skiing involves analyzing the mountain to find these safer areas, skiing in manner that minimizes risk and being equipped (avalanche transceiver, probe and shovel) if disaster should strike.
Skis and Silk Lingerie
I'd last come to Val d'Isère in 1998. I'd stayed in an apartment in the Bouquetins chalet with PisteHors' Pyrenean correspondent Ian and his wife Jackie, an old friend from History 'A' level days. The weather then had been similar, rain before the New Year then cold with a big dump of snow. The base was also poor which would lead to a number of accidents later in the season. I'd part financed my trip with an interview to run the IT infrastructure of the experimental nuclear reactor in Grenoble. I'd been offered the job but after long consideration had turned it down. At the time a career as an Internet guru in London looked more lucrative. Anyway living in Grenoble didn't mean you'd get any more skiing done, despite stories of 35 hour weeks and infinite lunch breaks the reality is that the French are fanatics for long, gruelling hours spent in the office, doing little but showing your boss that you are present. Given the storms during the week a lot of the resort was closed down which limited Ian and my scope for exploration. We went to the ESF and asked for the tastiest instructor going for a morning of personal instruction. Christine was a black haired local girl, late 20s and fit as a fiddle. She took us down the Lavancher? itinerary (Lavancher is patois for avalanche). She, in a short series of hup hup hup turns, her little cries of pleasure were almost obscene. We, lumbering behind, puffing and panting like steam engines. Looking at us she pouted: non non non be relaxed eet should be eazy. We learned that Christine skied 8 months a year and that after the season was over she liked nothing more than climbing up to the border with Italy with a few friends and skiing down to a refugio for a brunch. We also discovered that under her tight red ski suit she wore expensive silk underwear and nothing else. Our skiing, on the other hand, didn't get much better. After the snow settled we attempted the Banane from the tops of the Bellevard.
<< History of Val d'Isère | Val d'Isere | Familiale >>